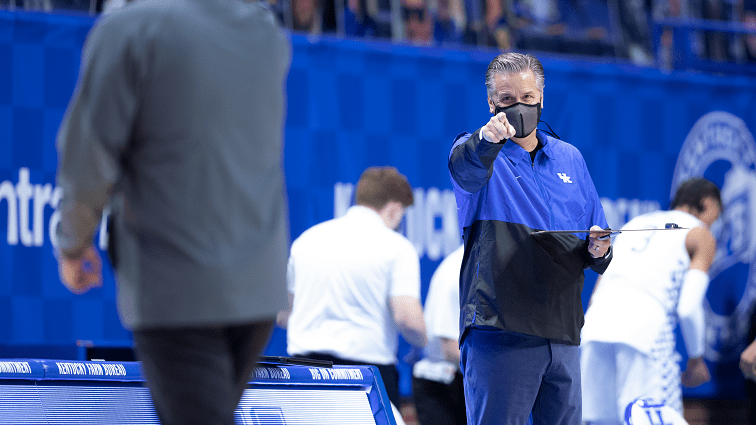 John Calipari (UK Athletics Photo)
Point guard Nolan Hickman's request to receive his release on the basketball letter of intent he signed to attend UK leaves John Calipari in an interesting position heading into the summer months. You know, those summer months where all the new players need to get together and bond as a team.
The interesting position is, he has no point guards currently on his Kentucky roster. None, as in zero. Devin Askew transferred, Davion Mintz has not decided yet if he will return to UK or not (and he is more of a combo guard) and now McDonald's All-American Nolan Hickman has quit before he even started.
So what gives? Why is John Calipari struggling to get a high-level point guard to sign and stick with UK? Maybe it's coming off a 9-16 record or maybe it's watching a surefire Top 5 lottery pick like BJ Boston coming out of high school now only being touted as a "potential" first-round pick in the upcoming NBA Draft.
Maybe it's the uncertainty that swirls around the UK Basketball program right now with player defections, coaching staff changes, and fan dissatisfaction along with the leftover bad feeling from last season.
But in my opinion, there is another reason that might factor into a player's decision.
John Calipari is no longer the "in" coach. He's not currently perceived by 17-year olds as the great NBA player "whisperer" that he used to be. Other coaches have moved into that spot. Other teams are getting the publicity that every high-caliber player wants. Other teams are seen as the "in" destination. Part of that is media coverage and winning but part of that is coaching relationships. As a staff, you either have it or you don't, and this Kentucky staff had lost some of its edge which in my opinion precipitated the staffing changes.
So now, it looks like John Calipari is in scramble mode — similar to a University of Tennessee football coaching search. Options 1, 2, 3, 4, and 5 have not panned out so at this point it's either take what you can get to fill a spot or hope that a player decides not to keep his name in the NBA Draft and also has a great relationship with one of the new — and at this point officially unnamed — assistant coaches that will be working the sidelines for Kentucky next season. Maybe one of those will work out. Maybe not. We shall see.
But, in the meantime, here is one last reason that may also be hurting John Calipari's recruiting efforts — pride. Now, I know some of you are scoffing at this point and saying how could pride be hampering recruiting efforts, it's a system built on pride. Well, hear me out. For those that remember last year John Calipari said, in discussing the new NBA policy that allowed players to go directly to the G-League out of high school:
"I say let 'em go out whenever they want to go out. If they want to go out of high school if they want to go after one year, two years, three years. What I say to everybody is, 'Kentucky will eat first. Whatever the rules are, we will eat first' so it really doesn't matter. You have people that want rules changed thinking it will hurt Kentucky. It's not hurting us [laughs]. Whatever the rules are, we will be the first to eat."
Sounds a little bit prideful now, doesn't it? Sometimes in life, after a lot of success, events tend to happen that bring people down to earth. I think the Bible says, "Pride goes before destruction and a haughty spirit before a fall."
Others might say karma or what goes around, comes around but in the end whatever you want to call it, it catches up with you. Now that's the pride side of the equation for the Kentucky coaching staff, and I think it's a big one.
But here is the pride side for the potential players. No one wants to step into a situation where they could be publicly embarrassed. No one. Players don't want to be called out on social media by fans and ridiculed for playing an inexperienced, poor game of basketball. No player (or player's parents) wants to watch their playing skills criticized 24/7 on ESPN and other media outlets because they are struggling to shoot the ball well or because they turn it over too much.
Then the question for the player becomes, "Why go there? Why take the risk?" Go to another school where the scrutiny by fans and media is not so intense and a player can still be highly successful and get drafted as a lottery pick.
In fact, Nolan Hickman's father summed it up well when he previously discussed his son's future at UK with Larry Vaught.
He said, "Kentucky can be rough. The fan base showed its true colors at times this year. Nolan knows he has to be prepared. Kentucky would win and fans would tag him on Twitter. He was like, 'Why me? They won and I am not even there.' I told him that was just preparing him for what it would be like. Kentucky has tough fans and you have got to be thick-skinned to survive."
With an endorsement like that some players will be saying, "Why go there?"
I think all those reasons could be why John Calipari is currently struggling to get some high-level point guards to sign and stick with UK. Every player is looking to be successful and happy at whatever school they choose and the coaching staff, fans, and results on the court all affect that decision.
With players making decisions every day, time will tell if UK can fill the most important spot on its roster with a player that has the mental toughness and skill set to lead John Calipari's dribble-drive offense next season and, time will also tell whether at 62 years old, John Calipari still has that special competitive drive that it takes to get back to the top — in recruiting and winning.
But, right now, the only thing time is telling me is that, with summer approaching, UK Basketball might be running out of it.