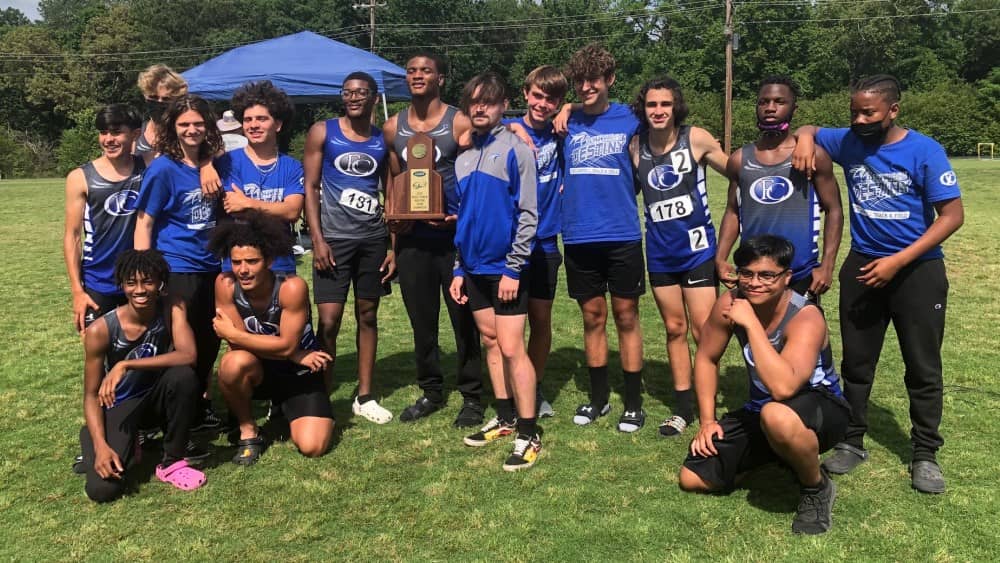 Fort Campbell brought home a share of the Class A Region 1 track and field title held Saturday at Murray High School. The Falcons were led by an individual win, a relay win, and three second-place finishes.
Both Fort Campbell and Murray totaled 102 points.  University Heights was the runner-up with 98 points.
Junior Niklas Sujanani won the 100-meter dash with a time of 11.24 seconds and was fourth in the long jump at 18-feet, 9-inches.
Jeremiah Holley was second in the long jump with a distance of 20-05 and second in the triple jump at 40-11.
Darrion Hutson was runner-up in the 110-meter hurdles with a clocking of 18.91 seconds. John Montalvo was third in 19.02 seconds.
Hutson also finished sixth in the 300-meter hurdles in 52.51 and 11th in the shot put [26-11]
The 800-meter relay team won in a tome of 1:36.04, edging Mayfield by less than a second.
The 400-meter relay team was second in 45.66 seconds.
The 3200-meter relay team finished third in 8:57.90.
The 1600-meter relay team was fourth in 3:47.45.
OTHER FALCON FINISHES AT REGION
Deontez Jenkins – 3rd in the 800-meter run [2:17.00]
Cole MacMurry – 3rd in the pole vault [10-00]; 5th in the 300-meter hurdles [48.45]
Amari Waddy – 3rd in the high jump [5-08]; 4th in the triple jump [38-06.50]; 11th in the 1600-meter run [5:35.87]
Chance Bryant – 4th in the pole vault [9-0]
Nathan Kovacevic – 5th in the 800-meter run [2:21.51]
Grant Shrader – 7th in the 3200-meter run [12:40.14]; 9th in the 1600-meter run [5:32.27]
Tano Unpingo – 7th in the discus throw [90-09]; 12th in the shot put [25-08]
Aidan Fix – 8th in the 3200-meter run [12:47.51]
Brody Sharp -8th in the 400-meter run [56.30]
Mateo Cerritos Gatto – 9th in the 400-meter run [56.98]; 9th in the 200-meter dash [26.25]
DaQuan Robinson – 9th in the 100-meter dash [12.37]; 11th in the 200-meter dash [27.05]