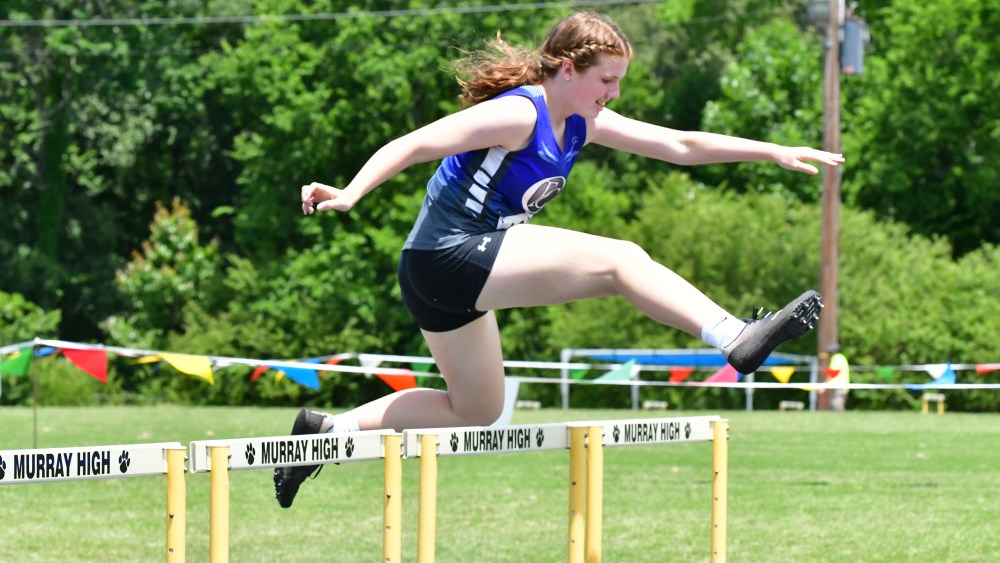 The Fort Campbell girls' track and field team finished in third place at Saturday's region meet hosted by Murray High School.
Fort Campbell's 92 points were six behind second-place University Heights Academy. Murray won the team trophy with 164 points.
Abigail Barker took second place in the 100-meter hurdles in a time of 19.36.
Savannah Ziegler was second in the 200-meter dash in 28.23 seconds and third in the 100-meter dash in 13.58 seconds.
Ava Dennis was third in the 1600-meter run in 6:04.41 and third in the 800-meter run in 2:43.32.  She also finished fourth in the pole vault with a height of 6-06.
The 1600-meter relay team was second in 4:53.80
The 3200-meter relay team finished in third place with a time of 12:25.45
The 400-meter relay team was third in 55.81 seconds.
The 800-meter relay team also finished third with a time of 1:59.22.
OTHER LADY FALCON FINISHES AT REGION
Madeline Thompson – 2nd in the pole vault [8-00]; 8th in the 400-meter run [1:18.54]
Keelin Gray – 4th in the triple jump [28-08.50]; 6th in the 1600-meter run [6:46.41]; 8th in the 800-meter run [2:56.81]
Ava Roberts – 4th in the 300-meter hurdles [56.51]; 5th in the 100-meter hurdles [20.07]
Elizabeth Allen – 5th in the 300-meter hurdles [1:00.30]
Kennedy Leary – 5th in the 100-meter dash [14.42]
Diamond Jenkins – 5th in the high jump [4-06]; 7th in the 400-meter run [1:15.18]; 8th in the long jump [11-06.50]
Asia Cabili – 5th in the triple jump [27-05]; 7th in the long jump [12-07.50]
Kierstyn Patterson – 6th in the high jump [4-02]; 13th in the shot put [21-09]; 16th in the discus throw [32-08]
Hailey Villegas – 9th in the 200-meter dash [30.62]