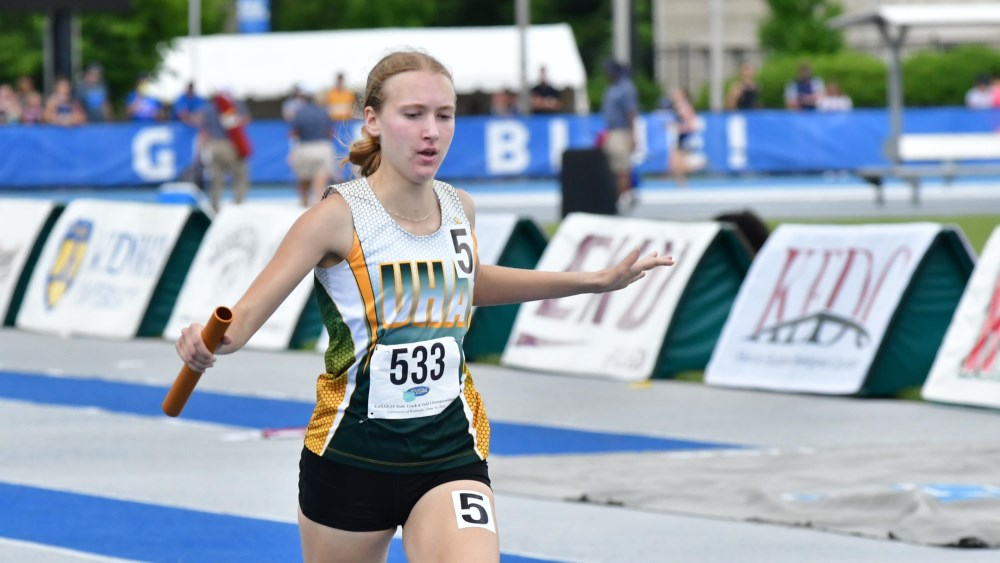 University Heights Academy had one individual and two relay teams reach the podium, helping the Lady Blazers to an 11th place finish at the Class 1A State Track and Field Meet at the University of Kentucky Thursday.
Senior Evelyn Morales placed second in both the 100 and 300-meter hurdle events.  She broke 16 seconds for the first time in her career in the 100-meters, finishing in 15.90 seconds. It took a state-record performance to beat Morales.  Morgan County's Krista Perry ran a 14.52 to set the new mark in the Class 1A meet.
Morales, a Kentucky Christian University signee, also finished second to Perry in the 300-meter hurdles.  Perry won in 46.22 seconds, while Morales was clocked in 47.51 seconds.
In the 800-meter run, Piper Hancock finished in 16th place in 2:37.20.
Aliviah Acree finished 21st in the 400-meter run in 1:09.07.
In the field events, Ragen Pollard finished 21st in the shot put with a heave of 26-10.  Audrey Grise was 20th in the triple jump with a distance of 28-06.50.
The 3200-meter relay team of Piper Hancock, Alison Bullen, Audrey Grise, and Grace Pape finished 14th with a time of 11:22.51.
As a team, UHA scored 22 points to finish in 11th place.  Region 1 champ Murray was sixth with 37.5 points.  Bishop Brossart totaled 87 points to claim the state championship by 20 points over Somerset.