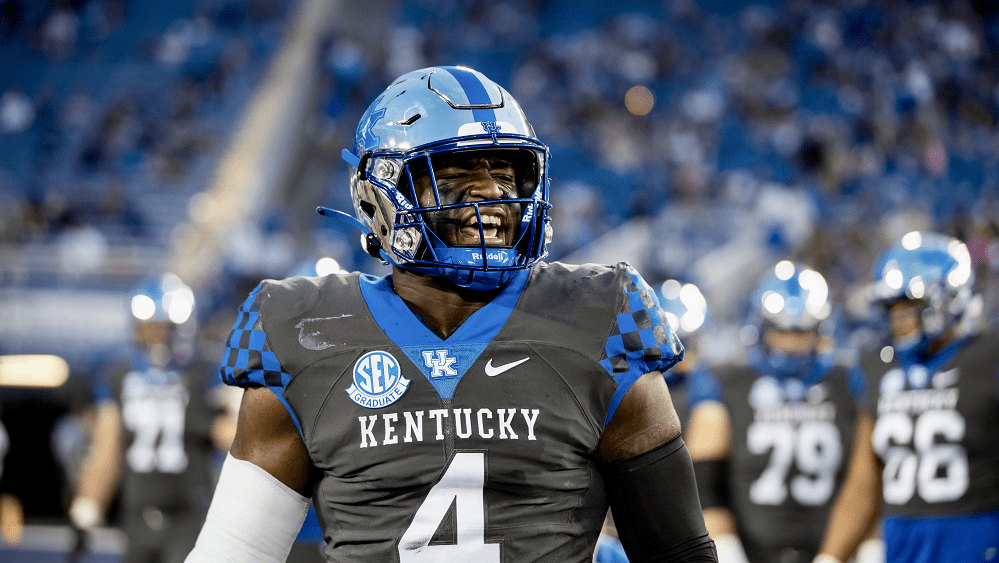 Josh Paschal will try to help UK end an 11-game losing skid against Georgia on Saturday. (UK Athletics Photo)
Who should be more worried about Saturday's game? Is it No. 1 Georgia with the pressure of now being the favorite to win the national championship? Or is it Kentucky that is 6-0 for the first time since 1950 and in position to reach the Southeastern Conference championship game for the first time?
Former Kentucky all-SEC running back Anthony White says the pressure is on Georgia because Kentucky knows what to expect from the Bulldogs while Georgia cannot be sure exactly what to expect out of UK.
I asked SEC Network/ESPN announcer Tom Hart, who was in Lexington to work the UK-LSU game, which coach he thought had more to worry about going into Saturday's SEC East showdown.
"That's a great question," Hart said.
He said it was obvious when UK coach Mark Stoops said after the LSU game that it was just the next win, Hart said he could sense Stoops had much bigger goals than just being 6-0.
"I think there is more pressure on (Georgia coach) Kirby Smart. Georgia football is a big deal. They have invested a lot publicly and privately in football," Hart said. "They have donors that expect to win and are not happy when they don't.
"They put pressure on the head coach and Georgia has fallen short of expectations since 1980. I am not suggesting Mark Stoops would be happy even with an 11-1 record because he wants his team to get to Atlanta (for the SEC title game).
"So I don't really know the answer but I do know that Kentucky did not even celebrate the win over Florida and was very business-like against LSU and probably will be again at Georgia."
Georgia's defense has been sensational this season but Hart believes Kentucky's balance could be an undervalued edge for the Cats.
"Kentucky has balance you do not see out of top 10 programs in that they are very driven and relaxed at the same time," Hart said.
Hart marveled at how the Thursday practice before the LSU game was "kind of casual" from start to finish.
"Then they come out and go up 21-0 against LSU and do it with intense focus," Hart said. "Stoops' decision to go for it on fourth-and-goal on the first drive showed everyone we need to put the hammer down. Kentucky needed to land a knockout blow early and they certainly did. That's the same attitude I am sure Kentucky will take to Georgia."