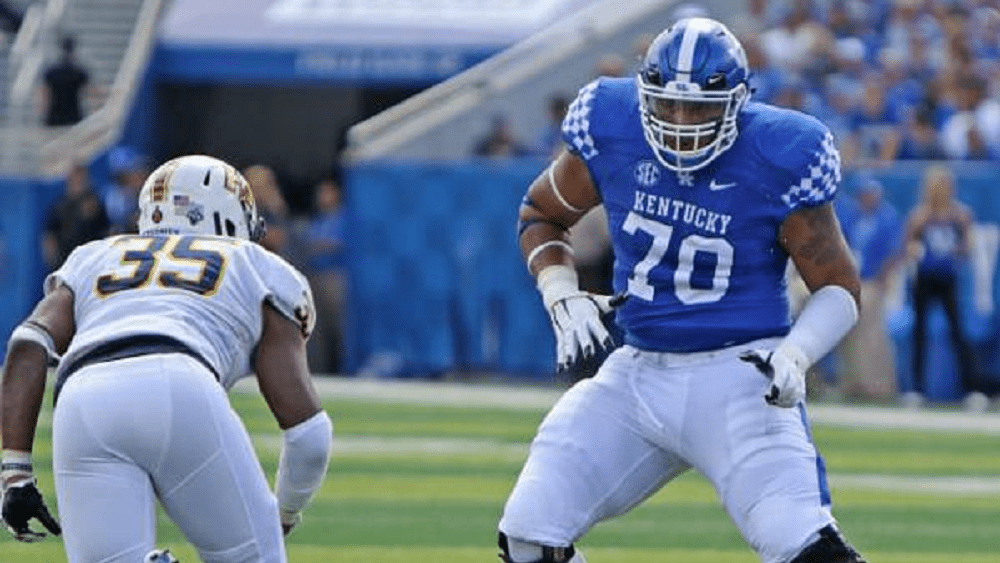 Darian Kinnard (UK Athletics Photo)
All-American offensive tackle Darian Kinnard was "dominant" in Kentucky's win at Vanderbilt. That's a word Kentucky coach Mark Stoops seldom uses to describe any player but he did when talking about Kinnard going into his final game at Kroger Field Saturday when UK hosts New Mexico State.
"You have a tendency, I don't want to say take him for granted because we don't, but people don't talk about him enough because he is a dominant player," Stoops said. "He played exceptionally well this past week.
"That's really good to see a guy that you know is going to have a bright NFL future, really finishing the way he is. That says a lot about him and that will help him and that will help us."
Kinnard had opportunities to go to the NFL after the 2020 season but opted to come back to improve his draft status and hopefully put UK into a major bowl. He looked like he was going to switch from right tackle to left tackle — a  move some NFL scouts told him would help his draft stock when he was evaluated for the 2020 draft — but moved back to his original spot since LSU transfer Dare Rosenthal could play left tackle.
Stoops said there is still no doubt Kinnard has helped his draft status with his play this season.
"You saw the versatility because when you're built like him as well, you could just about play any position. Maybe not center because he hasn't done that, but he is so big that he could be a dominant guard, but he is a tackle," Stoops said.
"He moves so athletically, and his feet are so good he could play tackle. He's just played so much right (tackle), he's comfortable there, and then we have Dare (Rosenthal), he's a left (tackle), he's built like a left. It fit us, and he was being very unselfish. He could play right or left."