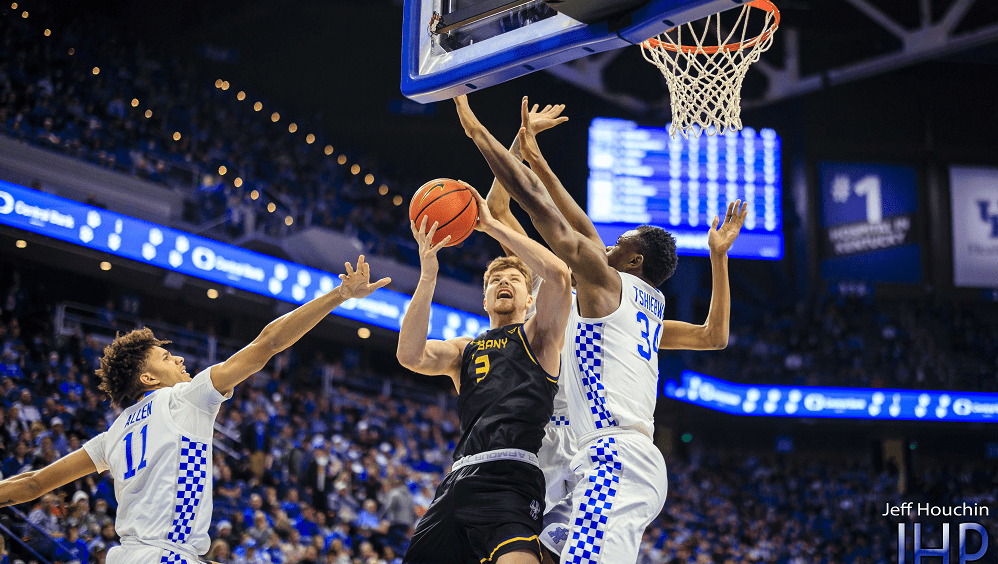 Oscar Tshiebwe, right, only played 23 minutes in Monday's win because of foul trouble. (Jeff Houchin/Nolan Media)
For most players, the numbers Oscar Tshiebwe had against Albany would have been more than acceptable. The Kentucky center was 6-for-6 from the field, scored 12 points, pulled off 14 rebounds and even had a steal. That was especially impressive considering he only played 23 minutes because of foul trouble.
He got in early foul trouble, just like he did the previous game against Ohio, and it was obvious Tshiebwe got frustrated during the game over the foul calls he disagreed with.
I asked Kentucky coach John Calipari after UK's 86-61 win what he hoped Tshiebwe learned from the last two games.
"That he is going to get fouled and grabbed and pushed. Got to deal with it. His advantage is 255 (pounds). In the eyes of others, that's a disadvantage. So they let him be grabbed and held," Calipari said. "I mean, it's what it will be, and deal with it. You can't push back. He didn't."
Calipari agreed that his big man got frustrated with the fouls.
"He came over twice and said, 'The dude's grabbing my arm.' I said, 'Look, just play.' It's what I've said and I'll continue to say, his advantage is 255. If a guy backs under him and he goes to rebound, that should not be a foul," the UK coach said.
"Well, he's got to go straight up and down. He was, except the guy displaced him and moved him back. So now he grabs the ball, and it's like that. Well, it's over the back. It isn't. He went straight up. Is displacing a foul? I don't know. But we'll watch the tape and try to learn."
Despite the frustration, Tshiebwe had his fifth straight game with double-figure rebounding. The last UK player to have 10 or more rebounds in five straight games was Julius Randle late in the 2013-14 season.
He also had his fourth double-double in five games.
Calipari said he needed to spend more time with Tshiebwe working on his post moves. He's obviously shown he can hit the 15-foot outside shot — just as Calipari predicted he could before the season started.
Calipari noted that Tshiebwe mainly scored at the rim at West Virginia and now UK wants him to expand his offensive game.
"Then when he gets close (to the rim), the stuff that he used to be really good at, he's not as good. So it's probably me," Calipari said. "But he can shoot. He can shoot free throws. Get to the line, get the ball up.
"Again, his size can be an advantage. But in the eyes of others, well, they have to do that to play him. No. No. No. That is not — for him — but I'll watch the tape. And if I see some push-off, hey, it's fine. If he has two hands in the back and he's pushing people, if the guy's going like this and he's trying to get him away, is it a foul? Or is the other thing a foul? I don't know. We'll have to look. I'll watch the tape."
Calipari doesn't want to see how UK plays with Tshiebwe on the bench with foul issues.
"When you're getting two and three guys thrown and hold and grabbed and kicked, anything you do looks like a foul. That's why I'm saying I've just got to send in the tape (to the SEC office) and say tell me," the Kentucky coach said.
"I may watch the tape and say, 'You know what, they didn't do it as much as I thought.' But when I watch the tape, I'll know. When he's on the court, we're better because he just grabs everything. We've got to get him better around the goal."
Calipari ran plays to get Tshiebwe outside shots late in the game after he picked up his fourth foul.
"I know he can do that. He may be our best 17-foot shooter. But we've got to be able to get something around the goal, especially when you catch it three feet, get something," Calipari said.