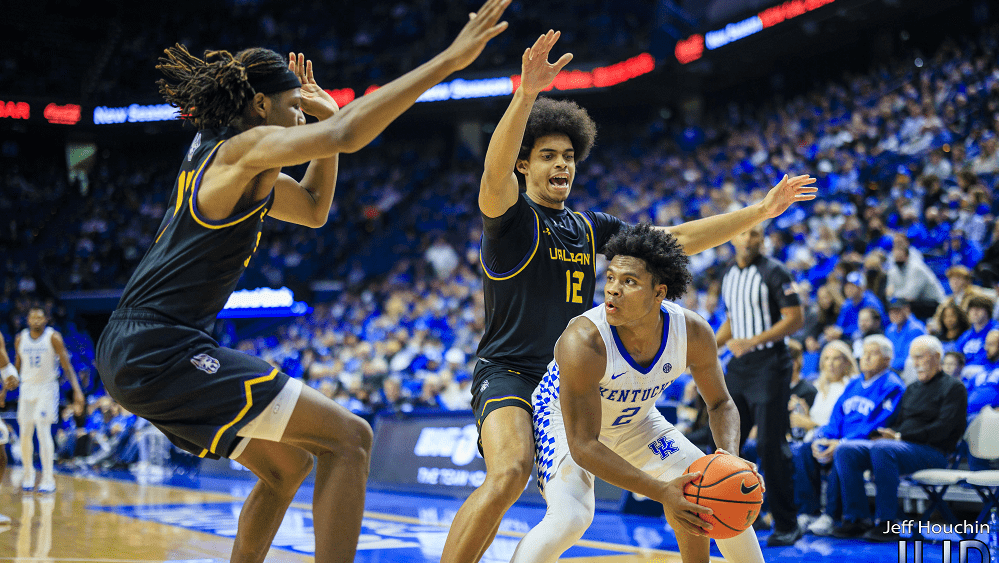 Kentucky point guard Sahvir Wheeler knew Albany played harder than UK did even though the Cats won. (Jeff Houchin/Nolan Media)
One thing stood out more to Kentucky coach John Calipari than anything else in his team's 86-61 win over Albany Monday night.
"They play really hard. Played harder than we played. If you watch the game, you said, 'Dog gone it, they played harder,'" Calipari said.
The Kentucky coach was right — and that pleased Albany coach Dwayne Killings more than anything else. His team is winless but seeing Calipari frustrated with the way the Cats were playing, especially the first half, told Killings his team was making progress.
Albany has had trouble with turnovers this season but had just 10 against Kentucky.
"They turn it over. They didn't today. So what does that tell you? They were playing harder than us and were ahead of the action versus us coming at them. That aggravated me more than anything," Calipari said.
"Again, it wasn't just one guy. It was like a team full of guys. But three or four, again, the same thing, this is good enough. No, it isn't. You won't be in. I'm taking you out."
Kentucky point guard Sahvir Wheeler had 15 points, seven assists, and four rebounds but he also had five turnovers. He's normally the energy maker for UK and he didn't disagree with Calipari's analysis of which team played harder even though UK won.
"They play really hard as a team. I don't think Coach Cal was too far off on that. They play really hard and they made us compete," Wheeler said. "We were only up nine at halftime. I believe that was it, and a lot of credit to them.
"Even when we made our run, and we were up 20, we can hear their coach coaching with passion and the players still believing they can win even though the game was already kind of decided. They played hard."
What did that tell Wheeler about Kentucky?
"That just shows that we've got to play a little bit harder to be able to finish our plays so we can create those leads earlier in the game," Wheeler said. "Against better competition when we're down, we might not be able to wait so late to play so hard in order to come up with wins."