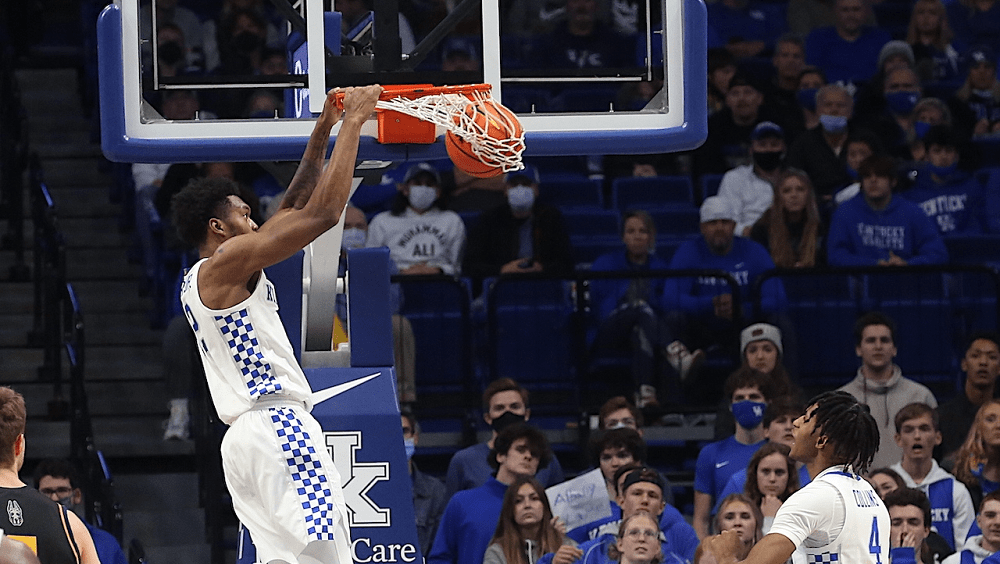 Keion Brooks (Vicky Graff Photo)
Junior forward Keion Brooks is on an upward trend that could be invaluable for Kentucky. He had nine points and three rebounds in the loss to Duke but has been in double figures the last four games. Against Ohio and Albany in UK's last two games, he went 16-for-29 from the field and pulled off 16 rebounds. He had 17 points and eight rebounds against Albany thanks to a big second half.
Brooks also did not take a 3-point shot against Albany — a wise move considering he was 2-for-10 in the previous four games from long range.
Coach John Calipari says Brooks needs to "fight" more to be the player UK needs.
"Look, he's got to be a 15, 16 point and an eight-rebound guy for us in a real physical game. Then you've got to be confident defensively," Calipari said. "If you're getting driven by, shoved, pushed, dunked, laid on, you cannot be confident offensively. You're going to turn it over. You're going to miss some shots you shouldn't miss."
Brooks is not the only player who has Calipari worrying about defensive confidence. He wants players to be able to trust each other defensively as well. He wants players fighting to beat opponents down the court, over screens, and delivering the first blow.
"Now all of a sudden, you're the toughest guy in the gym," Calipari said. "It doesn't matter. He weighs 25 pounds more. Hit him before he hits you because, if he hits you first, he's forcing you under the goal.
"So I'm not just saying that about Keion. I mean, I watched the game. We have three or four guys that aren't where they need to be.  But I'll say it again. For us to be any good, Keion has to get 15 and seven in a really good game, and he's got to have confidence defensively."