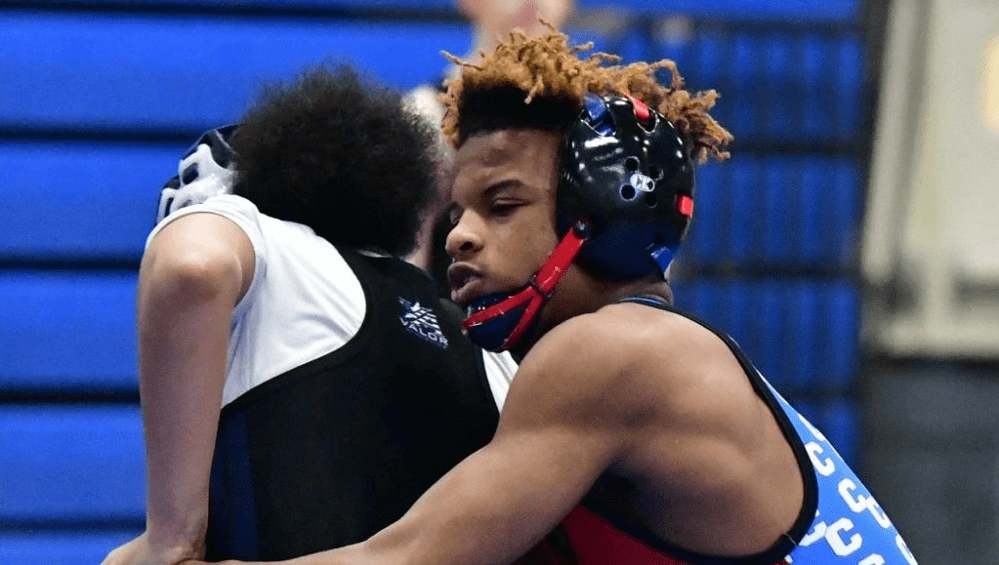 YSE File Photo
The Christian County Colonels took 3rd place Thursday in the Section 1 Big School Duals wrestling meet at McCracken County High School. The Colonels finished behind Apollo, who took 1st place, and 2nd place McCracken County.
Ohio County finished in 4th place, with Henderson County in 5th and Hopkinsville in 6th place.
Individually, Christian County had three wrestlers finish the day unbeaten at 5-0. Those wrestlers were JaRi Campbell (113), Deameion Leavell (132), and A.J. Harvey (285).
Team results for Christian County were:
Round 1
Christian County defeated Hopkinsville 70-12.
Round 2
Christian County defeated Henderson County 63-18.
Round 3
Apollo High School defeated Christian County 48-31.
Round 4
Christian County defeated Ohio County 45-36.
Round 5
McCracken County defeated Christian County 40-39
Individual results were:
106 Results
Kaleb Nenoff of Christian County went 1-0
106 – Kaleb Nenoff (Christian County) over Ariel Workman (McCracken County) Fall 1:05
Ashton Smith of Christian County went 4-1
113 – Ashton Smith (Christian County) over Camryn Freiburg (McCracken County) Dec 10-4
106 – Ashton Smith (Christian County) over Wyatt Payne (Henderson County) Forf
106 – Jake Ramsey (Apollo High School) over Ashton Smith (Christian County) Fall 3:01
106 – Ashton Smith (Christian County) over Talynn Clark (Ohio County) TF 15-0
106 – Ashton Smith (Christian County) over James Tucker (Hopkinsville) Fall 3:55
113 Results
JaRi Campbell of Christian County went 5-0
120 – JaRi Campbell (Christian County) over Logan Kissiar (McCracken County) Fall 0:58
113 – JaRi Campbell (Christian County) over Andrew Galbraith (Henderson County) Fall 1:59
113 – JaRi Campbell (Christian County) over Clayton Lawson (Apollo High School) Fall 0:45
113 – JaRi Campbell (Christian County) over Unknown (Unattached) Forf
113 – JaRi Campbell (Christian County) over Trushawn Matt (Hopkinsville) Fall 4:22
Ashton Smith of Christian County went 4-1
113 – Ashton Smith (Christian County) over Camryn Freiburg (McCracken County) Dec 10-4
106 – Jake Ramsey (Apollo High School) over Ashton Smith (Christian County) Fall 3:01
106 – Ashton Smith (Christian County) over Talynn Clark (Ohio County) TF 15-0
106 – Ashton Smith (Christian County) over James Tucker (Hopkinsville) Fall 3:55
106 – Ashton Smith (Christian County) over Wyatt Payne (Henderson County) Forf
120 Results
JaRi Campbell of Christian County went 5-0
120 – JaRi Campbell (Christian County) over Logan Kissiar (McCracken County) Fall 0:58
113 – JaRi Campbell (Christian County) over Andrew Galbraith (Henderson County) Fall 1:59
113 – JaRi Campbell (Christian County) over Clayton Lawson (Apollo High School) Fall 0:45
113 – JaRi Campbell (Christian County) over Unknown (Unattached) Forf
113 – JaRi Campbell (Christian County) over Trushawn Matt (Hopkinsville) Fall 4:22
Tayvontay (Tay) Martinez of Christian County went 2-2
120 – Tayvontay (Tay) Martinez (Christian County) over Charles House (Henderson County) Fall 2:35
120 – Landen Cox (Apollo High School) over Tayvontay (Tay) Martinez (Christian County) Fall 0:38
120 – Mason Taylor (Ohio County) over Tayvontay (Tay) Martinez (Christian County) Fall 3:46
120 – Tayvontay (Tay) Martinez (Christian County) over Juan Cannon (Hopkinsville) Fall 4:46
126 Results
Silas Tatum of Christian County went 2-3
126 – Alex Bowlds (Apollo High School) over Silas Tatum (Christian County) Fall 0:55
126 – Silas Tatum (Christian County) over Unknown (Unattached) Forf
126 – Holden Schneider (Hopkinsville) over Silas Tatum (Christian County) Fall 1:16
126 – Parker McKee (McCracken County) over Silas Tatum (Christian County) Fall 0:15
126 – Silas Tatum (Christian County) over Wyatt Holland (Henderson County) Dec 10-5
132 Results
Deameion Leavell of Christian County went 5-0
132 – Deameion Leavell (Christian County) over Petey Graham (Ohio County) Maj 11-0
132 – Deameion Leavell (Christian County) over Unknown (Unattached) Forf
132 – Deameion Leavell (Christian County) over Collin Tolar (McCracken County) Fall 1:06
132 – Deameion Leavell (Christian County) over Winston Young (Henderson County) Fall 2:43
132 – Deameion Leavell (Christian County) over Damien Crockett (Apollo High School) TF 18-2
138 Results
Ryan Hines of Christian County went 3-2
144 – Ryan Hines (Christian County) over Unknown (Unattached) Forf
144 – Hunter Hawthorne (McCracken County) over Ryan Hines (Christian County) Fall 3:44
144 – Ryan Hines (Christian County) over Josiah Ciulei (Henderson County) Fall 2:51
138 – Ryan Hines (Christian County) over Unknown (Unattached) Forf
138 – Caige Clark (Ohio County) over Ryan Hines (Christian County) Fall 1:00
Haydon Merrick of Christian County went 2-3
144 – Dana Bishop (Apollo High School) over Haydon Merrick (Christian County) Fall 5:05
144 – Zander Bunch (Ohio County) over Haydon Merrick (Christian County) Fall 2:48
138 – Haydon Merrick (Christian County) over Jamaure Ennels (Hopkinsville) Fall 1:45
138 – James Barragan (McCracken County) over Haydon Merrick (Christian County) Maj 11-3
138 – Haydon Merrick (Christian County) over Vinson Embry (Henderson County) Fall 3:04
144 Results
Ryan Hines of Christian County went 3-2
144 – Hunter Hawthorne (McCracken County) over Ryan Hines (Christian County) Fall 3:44
144 – Ryan Hines (Christian County) over Josiah Ciulei (Henderson County) Fall 2:51
144 – Ryan Hines (Christian County) over Unknown (Unattached) Forf
138 – Ryan Hines (Christian County) over Unknown (Unattached) Forf
138 – Caige Clark (Ohio County) over Ryan Hines (Christian County) Fall 1:00
Haydon Merrick of Christian County went 2-3
144 – Dana Bishop (Apollo High School) over Haydon Merrick (Christian County) Fall 5:05
144 – Zander Bunch (Ohio County) over Haydon Merrick (Christian County) Fall 2:48
138 – James Barragan (McCracken County) over Haydon Merrick (Christian County) Maj 11-3
138 – Haydon Merrick (Christian County) over Vinson Embry (Henderson County) Fall 3:04
138 – Haydon Merrick (Christian County) over Jamaure Ennels (Hopkinsville) Fall 1:45
150 Results
Andrew Barton of Christian County went 4-1
150 – Gunnar Arnold (Ohio County) over Andrew Barton (Christian County) Fall 1:39
150 – Andrew Barton (Christian County) over Xavion Wallace (Hopkinsville) Fall 1:28
150 – Andrew Barton (Christian County) over Brayden Howard (McCracken County) Fall 1:40
150 – Andrew Barton (Christian County) over Isazah Robertson (Henderson County) Fall 0:40
150 – Andrew Barton (Christian County) over Mason Shephard (Apollo High School) Fall 1:06
157 Results
David (Allen) Wells of Christian County went 2-2
165 – David (Allen) Wells (Christian County) over Unknown (Unattached) Forf
157 – Grayson Shelby (Ohio County) over David (Allen) Wells (Christian County) Fall 0:58
157 – David (Allen) Wells (Christian County) over Unknown (Unattached) Forf
157 – John Sheward (Apollo High School) over David (Allen) Wells (Christian County) Fall 1:35
Mikhi Boyd of Christian County went 0-2
157 – Jaylin Littleton (Hopkinsville) over Mikhi Boyd (Christian County) Fall 0:25
157 – Bryce McTaggart (McCracken County) over Mikhi Boyd (Christian County) Fall 0:20
165 Results
David (Allen) Wells of Christian County went 2-2
165 – David (Allen) Wells (Christian County) over Unknown (Unattached) Forf
157 – John Sheward (Apollo High School) over David (Allen) Wells (Christian County) Fall 1:35
157 – Grayson Shelby (Ohio County) over David (Allen) Wells (Christian County) Fall 0:58
157 – David (Allen) Wells (Christian County) over Unknown (Unattached) Forf
Lelan Lee of Christian County went 2-3
175 – Jaxson Wallace (Henderson County) over Lelan Lee (Christian County) Fall 2:49
175 – Lelan Lee (Christian County) over Unknown (Unattached) Forf
165 – Isaiah Harris (McCracken County) over Lelan Lee (Christian County) Fall 1:48
165 – Jonah Hinton (Apollo High School) over Lelan Lee (Christian County) Fall 2:13
165 – Lelan Lee (Christian County) over Unknown (Unattached) Forf
175 Results
Lelan Lee of Christian County went 2-3
175 – Jaxson Wallace (Henderson County) over Lelan Lee (Christian County) Fall 2:49
175 – Lelan Lee (Christian County) over Unknown (Unattached) Forf
165 – Isaiah Harris (McCracken County) over Lelan Lee (Christian County) Fall 1:48
165 – Jonah Hinton (Apollo High School) over Lelan Lee (Christian County) Fall 2:13
165 – Lelan Lee (Christian County) over Unknown (Unattached) Forf
190 Results
Omarion Wimberly of Christian County went 4-1
215 – Omarion Wimberly (Christian County) over Unknown (Unattached) Forf
215 – Omarion Wimberly (Christian County) over Austin Lander (Henderson County) Fall 0:34
190 – Jarrod Gray (Apollo High School) over Omarion Wimberly (Christian County) Fall 1:41
190 – Omarion Wimberly (Christian County) over Dontre Quarles (Hopkinsville) Maj 10-0
190 – Omarion Wimberly (Christian County) over Noah Vaughn (McCracken County) Fall 1:42
Isaiah Davidson of Christian County went 1-1
190 – Evan Henshaw (Henderson County) over Isaiah Davidson (Christian County) Fall 3:14
190 – Isaiah Davidson (Christian County) over Jarrett Renfrow (Ohio County) Forf
215 Results
Sean Dulin of Christian County went 1-0
215 – Sean Dulin (Christian County) over Alexander Sapp (Apollo High School) Dec 8-7
Omarion Wimberly of Christian County went 4-1
215 – Omarion Wimberly (Christian County) over Unknown (Unattached) Forf
215 – Omarion Wimberly (Christian County) over Austin Lander (Henderson County) Fall 0:34
190 – Omarion Wimberly (Christian County) over Dontre Quarles (Hopkinsville) Maj 10-0
190 – Omarion Wimberly (Christian County) over Noah Vaughn (McCracken County) Fall 1:42
190 – Jarrod Gray (Apollo High School) over Omarion Wimberly (Christian County) Fall 1:41
Xaveir Reid of Christian County went 1-1
215 – Xaveir Reid (Christian County) over Unknown (Unattached) Forf
215 – Frankie Nutt (McCracken County) over Xaveir Reid (Christian County) Fall 0:17
285 Results
Anthony (A.J.) Harvey of Christian County went 5-0
285 – Anthony (A.J.) Harvey (Christian County) over Esley Cornelius (McCracken County) Fall 0:40
285 – Anthony (A.J.) Harvey (Christian County) over Conner Lander (Henderson County) Fall 2:30
285 – Anthony (A.J.) Harvey (Christian County) over Blaize Cart (Apollo High School) TF 17-2
285 – Anthony (A.J.) Harvey (Christian County) over Unknown (Unattached) Forf
285 – Anthony (A.J.) Harvey (Christian County) over Unknown (Unattached) Forf