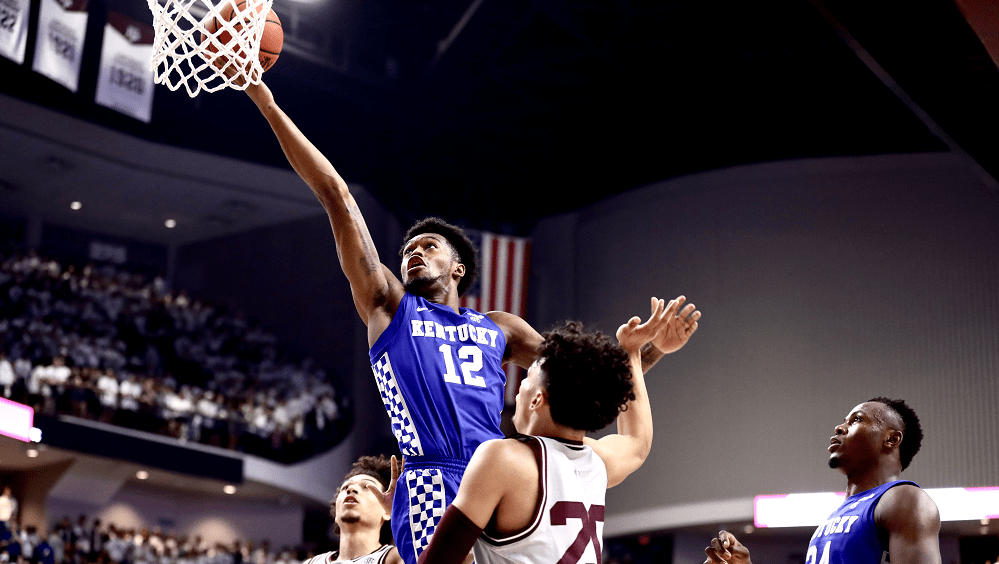 Keion Brooks had four points and two rebounds in Wednesday's win at Texas A&M. (UK Athletics Photo)
It was not a pretty win or a game that Kentucky played all that well overall. Yet Kentucky still found a way to win 64-58 at Texas A&M Wednesday night after being down 13 points in the first half. No way could last year's UK team have won this game. It would have folded and two players off that team admit that.
Guard Davion Mintz, who had 10 points, eight rebounds, and three assists in 30 minutes, said this year's team had more "collectiveness" as shown by players huddling together during games.
"We also have guys doing things outside the norm," Mintz said. "Simple things we didn't have last year. We were just young (last year). Now we have veterans and guys who have been in these situations."
Jacob Toppin, another holdover off last year's team, had nine points, six rebounds, and two assists. He also guarded multiple positions, something no one else on the team can do nearly as well as him.
Toppin said it was "very satisfying" to win the type of game UK could not last year — or did not at Notre Dame or LSU earlier this season.
"Nothing against my teammates last year but we did not have guys to make big-time plays down the stretch to win games," Toppin said.
He's right.
Freshman TyTy Washington got in early foul trouble and was not anywhere close to the player he had been. He made two turnovers to get yanked out of the game by coach John Calipari. The coach told him it was time to show who he was.
Washington responded by making two key jumpers late in the game to keep UK in front and in position to win a key SEC road game even though it shot just 36 percent from the field and 22 percent from 3-point range.
"For TyTy to step up to make plays … that shows the big-time player he is and he has the balls to make shots like that," Toppin said.
Washington finished with eight points on 3-for-10 shooting, four rebounds, and one assist in his least productive game since the opening loss to Duke. But when UK needed him, he was there.
Toppin said this year's team understands the importance of staying together — something last year's team obviously could not do in close games.
"The environment was crazy. To stay together when they went on runs was big-time," Toppin said. "We are cool on the court but off the court, we are not going to fight about anything. We are going to stay together and work hard."