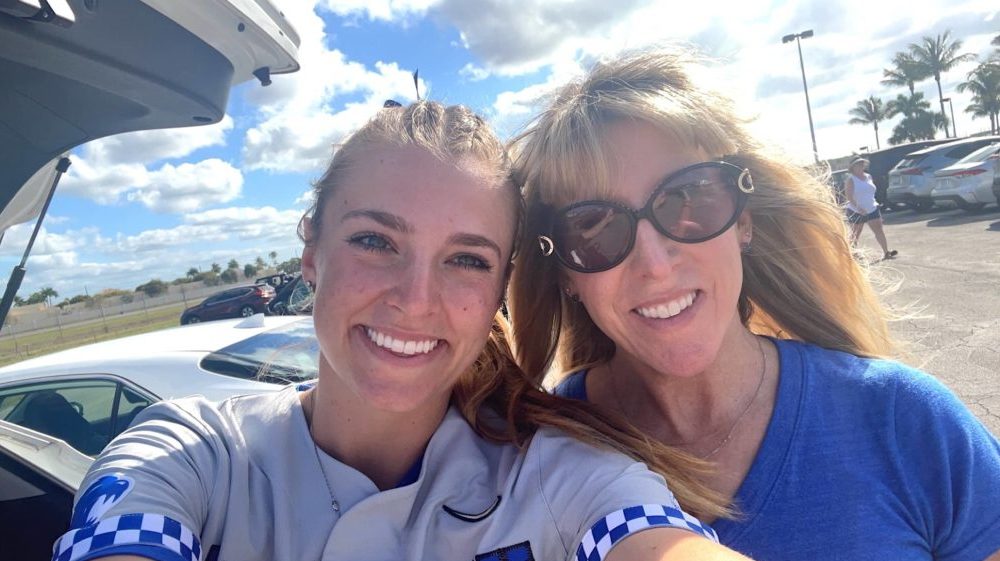 Holli Spangler with her daughter, Tatum, after a UK game in Florida this season.
It's not unusual for a Division I athlete to have his or her parents come to watch them play. However, Holli Spangler has made a huge commitment to watch her daughter, Kentucky softball senior Tatum Spangler, play this season.
"My mom has been to every game this year except for the weekday games. Being my senior year she did not want to miss a game except for the weekday games," Tatum Spangler said. "She has followed along to every series we have had. That has been really important to me and I am grateful for that support."
What makes this a bit more extraordinary is that the Spanglers live in Las Vegas. Holli estimates she has flown about 35,000 miles so far and has trips booked to Columbia, S.C., for the final regular-season series and Gainesville, Fla., for the SEC Tournament.
"She gets home and then gets right back on a plane. She is an amazing woman," Tatum said.
"The 6 a.m. flights are the hardest," Holli said. "But with COVID we have learned that anything can change at any point in time. I am trying to see her as much as possible. I want to be there for her and cheer for her."
"Most of the series are Friday-Saturday-Sunday. I leave early on Friday and often skate right in from the airport to the park. Then Sunday after the game we gain three hours with the time change on the way home but it still could be midnight my time when I get home. Then it is off to work Monday to do my thing."
Holli usually travels by herself but her husband made the trip to Arkansas where her boyfriend and 21 of his family friends — all Arkansas alumni — came to watch her play. They also had 22 friends and family members who came when UK played at Arizona early in the season. (Tatum's brother is a freshman at Arizona).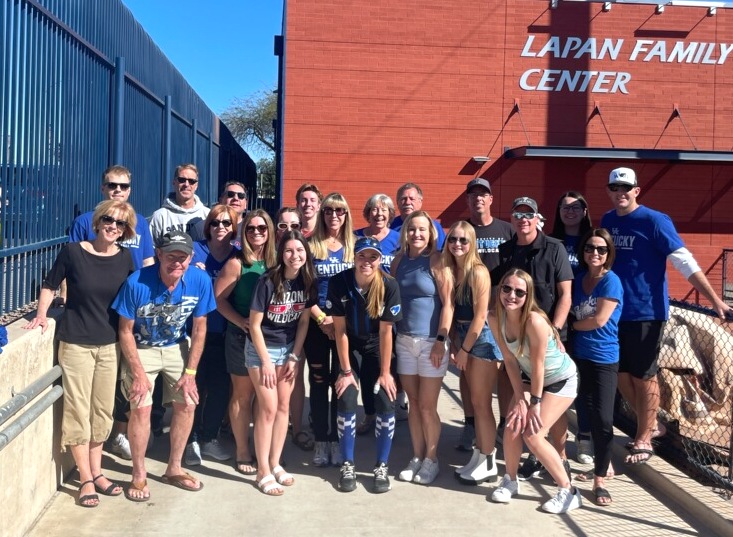 Holli Spangler has been in Lexington for a week now as she watched three games against Missouri and then one against Northern Kentucky. Her husband will be here for the weekend series with Mississippi State that includes Saturday's Senior Day game.
"But no matter what it is worth it if I get to spend an hour or two with her after the game just to make sure she is okay. I hug her and chat and laugh about things," Holli said.
Tatum has been UK's best pitcher going into this weekend. She has a 1.63 earned run average and 7-1 record with 41 strikeouts in 43 innings. She is hitting .203 with 10 RBI's in 59 plate appearances. She missed time early in the season with a broken thumb on her left hand — her pitching hand.
"I am so proud of her. I will try not to get choked up," Holli said. "She is a special person. She is super competitive but what makes her special is her integrity. It goes back to her high school and travel ball years. People would come up and say they hate playing against your daughter but love her so much. I say she is feared by most but loved by all. People just want to root for her. She's an amazing competitor but has such a genuine heart."