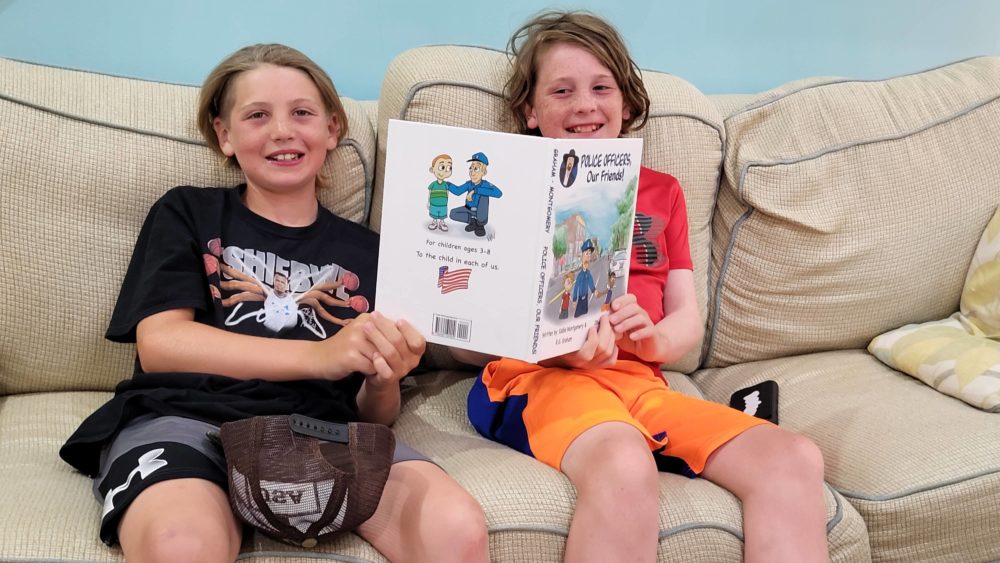 My grandsons Colby, left, and Wynston had fun reading the new book by Eddie Montgomery. (Larry Vaught Photo)
Country music singer Eddie Montgomery is a huge University of Kentucky sports fan. Always has been, always will be.
But Montgomery is also a huge fan of law enforcement personnel. That's why he has co-authored a book with Randy Graham aimed at showing youngsters that police officers are their friends.
"I have always respected all our officers. They have got a hell of a job to do. Nobody is perfect and there are bad people in every profession but do not penalize all the great ones doing things the right way," said Montgomery.
The book, "Police Officers, Our Friends!," is geared for children ages 3-10 according to Montgomery.
"We hope the book helps teach kids to respect the police and teach them that the police are  men and women who can save your butt and you can trust them to help," Montgomery said. "Law enforcement officers have always come to our shows and I just wanted to show them I appreciate what they do."
Montgomery knows not everyone will share his view about law enforcement officials.
"I ain't scared of it. I can speak my piece. I always have and I think we need to start letting kids know the police can be their friend," the country music singer said. "We need to teach kids to respect the police and if there is a bad officer, get him or her out of there. But I want to let kids know there are good people out there."
He said Graham and illustrator Michael Southerland both did a "great job" helping put the book together.
The hardback, 32-page book sells for $14.99 plus shipping and handling and can be ordered at https://www.ourpolicefriends.com/.
"We just want to help teach kids that police officers are their friends because they are and think this book is written in a way kids will like and understand," Montgomery said.
Montgomery is currently on tour promoting his new CD but already has an idea "lined up in his head" for another children's book.
He's also already looking forward to the Kentucky football season.
"I love what (coach Mark) Stoops is doing to make people respect Kentucky football. I think they are going to be really special this year.  I can't wait. This might be the year we beat Georgia, baby," Montgomery said.