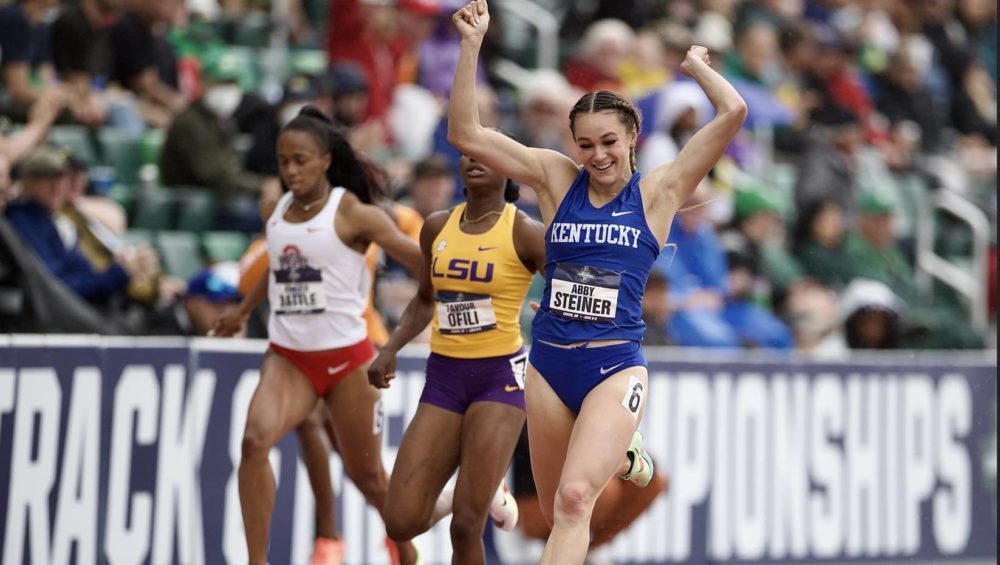 Abby Steiner has three collegiate sprint records and a bright, bright future. (UK Athletics Photo)
Abby Steiner is a very private person and her incredible success the last two years that has made her a national star has not changed that.
The Kentucky sprinter — who just won the 200-meter dash at the USA Championships — was rumored to have received a $2 million endorsement deal from Puma based on what Sacramento State track coach Kenny McDaniel posted on Twitter Tuesday.
The social media post, naturally, spread like wildfire on various sports sites and seemed like fact. I reached out to Steiner — who I have interviewed several times — about the reported deal.
"Those reports are speculation. Contracts are not open to the public," Steiner said in a text message at 8:58 a.m.
It was no surprise to me that less than two hours later Monday that Steiner went on her own personal Twitter account to make sure everyone understood that message.
"People trying to leak my deal and contract have been some of the most invasive and bothersome narratives I have seen. This information is between my sponsor and me. Any source outside of that is simply speculation," Steiner said in the statement posted on Twitter.
"My income is not on public record, nor should it be reported as such. Any reporter should know this, and reporting otherwise is extremely harmful in a time period of my life that is already stressful."
"Please keep in mind that athletes are human. We are worth more than being used in attempts to gain social media likes. A simple DM (direct message) to me could have prevented false narratives in our track community."
If she has signed with Puma, the same company sprinting legend Usain Bolt is with, that's a big, big deal for such a young athlete. Remember former UK standout Sydney McLaughlin turned pro after one year at Kentucky and signed a $1.5 million deal with New Balance. She won two gold medals at the Tokyo Olympics.
Steiner will be competing in the World Championships later this month in the 200 and likely in the 4×100 and 4×400 relays.
She is already a 15-time All-American and a four-time NCAA Champion indoors and outdoors. She holds the NCAA record in the 200, 300, and 4×400-meter events. 
She also has a degree in kinesiology-exercise science and wants a career as a physical therapist. Steiner has been admitted to physical therapy school at UK but will defer for now to concentrate on her running career.