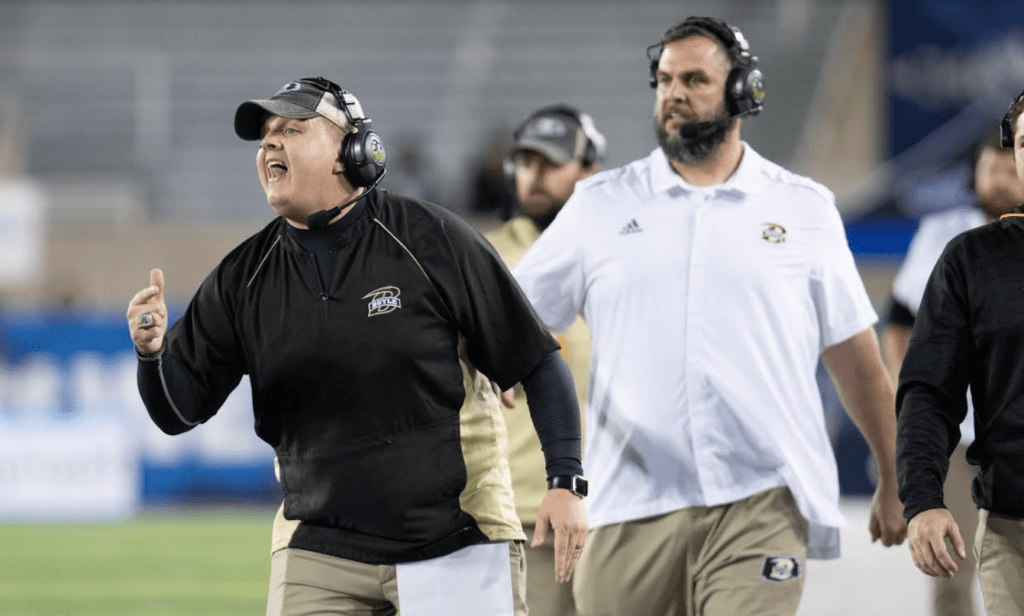 Current Boyle County coach Justin Haddix was an all-state quarterback and state champion at Breathitt County. (Chris Zollner Photo)
Knowing Justin Haddix is doing something to help with flood relief in eastern Kentucky is no surprise.
The current Boyle County High School head football coach played at Breathitt County and won a Class AA state title in 2002. After a successful playing career at Western Kentucky University, he started his coaching career at Breathitt under coach Mike Holcomb.
He coached at Perry Central and then Corbin before coming to Boyle County in 2020.
Haddix made an emotional social media post asking for donations to help those in Breathitt, especially the high school football program that had equipment damaged as well as several coaches who "lost everything" in last week's floods.
Haddix asked for bottled water, cleaning supplies, Gatorade, first aid supplies, towels and/or cash. The football team had a trailer at the football stadium Monday night taking donations and will again Tuesday night from 5:30-8:30. Donations will be delivered Wednesday.
Haddix credits one of his players, Dalton Stone, for suggesting to him that the Boyle football program help Breathitt football.
"Dalton called out of the blue and said we want to do something to help your old school," the Boyle coach said. "That's just the leadership of our team being servant leaders. It got me emotional."
That led Haddix to make his request on social media and he's been overwhelmed by the response. He's had friends from his Western Kentucky days help as well as former high school friends and teammates. Local churches have donated.
"We have probably raised $6,000 to $7,000 to get new equipment (for the football team) and other help they need," Haddix said. "Make checks to the Breathitt County Football Boosters and they can help families who lost everything. Everybody needs help but those are folks I have been concentrating on trying to help."
If you cannot bring a cash donation to the Boyle football stadium tonight, contact Haddix on social media.
Haddix said one western Kentucky high school football coach who needed help after the December tornado has reached out to say he would help. Haddix noted how Lexington Christian Academy coach Doug Charles and some of his players not only came to help clean up football facilities but picked up all the jerseys and helmets to have them commercially cleaned so the team would have its Breathitt gear to use this season.
"Scott County coach Jim McKee said he had a whole set of extra game stuff they could use at Breathitt as long as they wanted. It had Scott County on it but what a great gesture," Haddix said.
Haddix said he may let his players out of practice Wednesday if any decide they want to head to eastern Kentucky to volunteer to help.
"Football and athletes are important for pushing and bringing people together," Haddix said. "I am sure there are also a lot of families in Perry County where I coached that could use help. I know Knott County had water in the basketball gym and the team probably needs some help. I just put my focus on Breathitt because that's where I played but there is no such thing as too much help anywhere in eastern Kentucky right now because so many people are hurting."