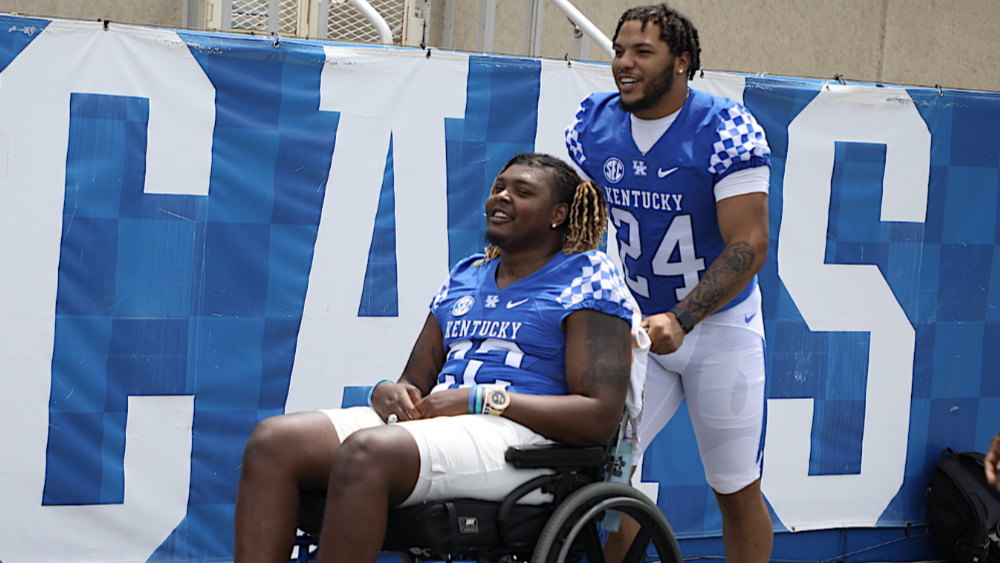 Former roommates Chris Rodriguez and Chris Oats at Wednesday's UK Media Day. (Vicky Graff Photo)
Media Day is always a feel-good time. Coaches feel good about the upcoming season. Players feel good about what they are going to do.
But Wednesday's Media Day for Kentucky football was a real feel-good story and not because the Wildcats have perhaps the highest preseason expectations in 50 years. No, this was special because linebacker Chris Oats was there and even took part in the team/position photos.
Oats was a sensational linebacker for the Cats before suffering a stroke in May of 2020. He spent three months at a rehab facility in Florida this summer trying to regain some mobility and progressed to where he was able to stand and walk with assistance. He recently held a youth football camp in northern Kentucky to raise money for the Chris Oats Foundation that supports his family as well other families of young stroke victims. His family is hoping he can return to the same rehab facility next year for more work.
Obviously none of this was expected when Oats had 73 tackles in two seasons at inside linebacker but the stroke has turned him into a spectator at UK games, including last year's Citrus Bowl when he made the trip to Florida.
Running back Chris Rodriguez, Oats' former roommate, pushed him in a wheelchair at Media Day and Oats was beside Rodriguez and linebacker DeAndre Square, another close friend, in the team photo. Teammates helped lift Oats into the stands so he could be in the team photo.
Defensive coordinator Brad White was visibly touched by Oats' presence.
"That means the world. That's what this program's built on. It's built on relationships and it's built on continuing to build those relationships," White said.
"To watch Chris' progress, to see the steps that he made down in Florida and where he is now, it's so encouraging for all of us. And he's an inspiration. We've highlighted that in our defensive meetings, plays that pop up when you're doing overlap film or teach tapes and, and you see him out there playing."
The Kentucky defense remembers Oats daily and White says that won't change.
"You're like, 'Guys, understand. Don't ever get numb to when we break down on '22.' This is what it's about, so just continue to let the young guys that didn't necessarily know Chris when he was here, get to know him and know the personality he has, know his family. So, it's always awesome to have him around as much as he is," White said.