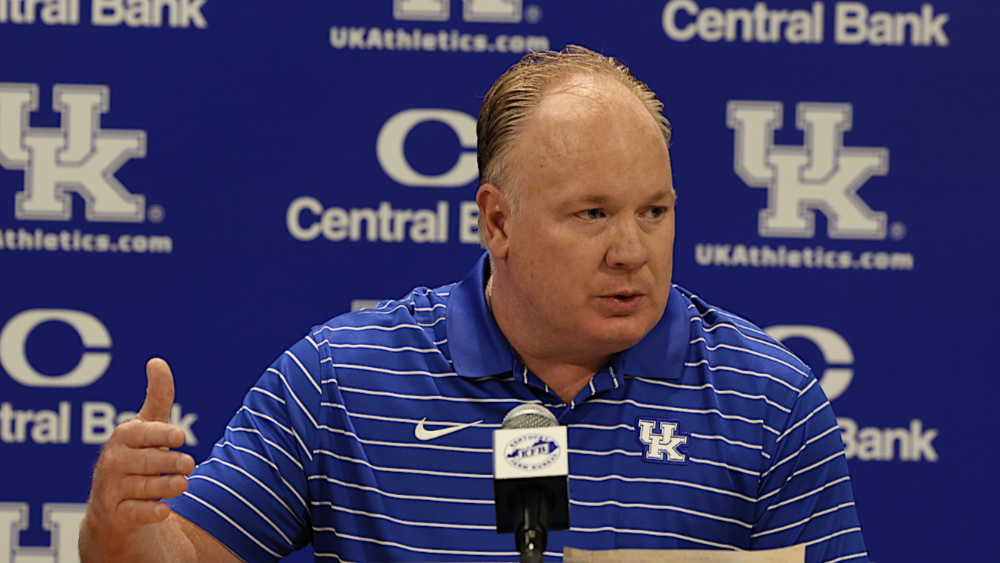 Mark Stoops has talked to Breathitt County football coach Kyle Moore about his high school team's needs after the recent flooding. (Vicky Graff Photo)
Thanks to a huge matching donation from Kelly and Joe Craft along with a $350,000 donation from former Kentucky basketball star Anthony Davis, Kentucky basketball helped raise almost $3 million for eastern Kentucky flood relief during a telethon Tuesday.
Kentucky football coach Mark Stoops hinted Wednesday at media day that the football team would be doing something soon to help eastern Kentucky and senior defensive back Jalen Geiger said the same thing in a video after the team's first practice.
Stoops said he had talked with Breathitt County football coach Kyle Moore to extend "condolences" and offer to help his team after flooding damaged the team's equipment. Eastern Kentucky University is actually letting Breathitt use the school's practice field, cafeteria and dorms for three days next week after doing the same for Hazard this week.
"We're collecting as many things as we can that we're permitted to donate through football because their locker room was destroyed and all the things there," Stoops said on Wednesday.
"But I did mention to coach Moore, it's devastating. There's mass destruction. It's horrible no matter where you look at it. Certainly I saw certain clips of that, of their locker room and them digging themselves out of that, cleaning themselves up. I just wanted him to know that we're here to help him and support him and donate things as we can."
That's when Stoops pledged future support for those impacted by the flooding.
"The team is going to do a couple different things to help, and we'll continue to do our part," Stoops said. "I guess my only message would be to eastern Kentucky, continue to stay strong like they are. Those are tough, strong, resilient people."
"We're going to do a lot of things to try to help them in the meantime, but we're also going to go out there and play extremely hard and hopefully represent them the right way, that they really have something in the fall to smile about."