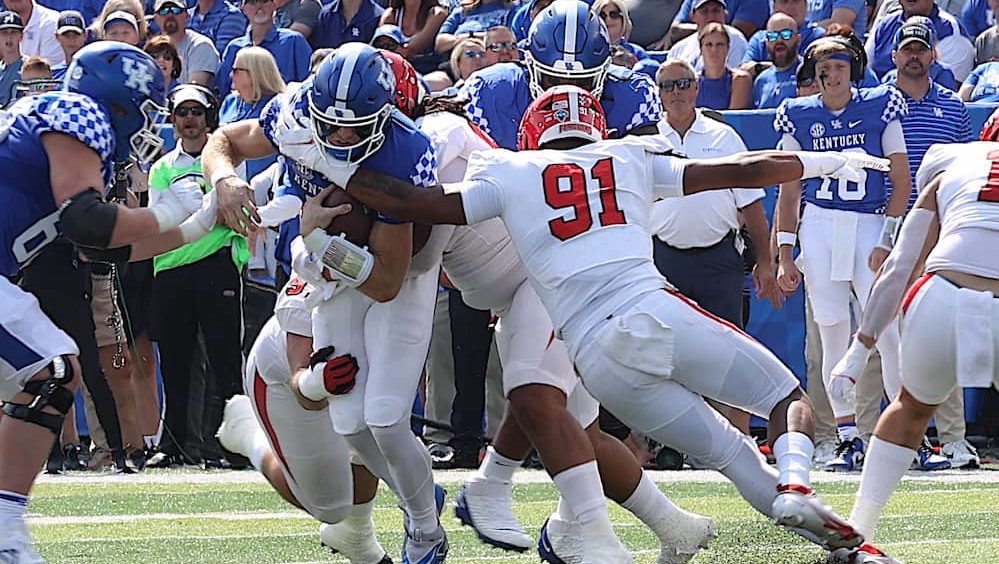 Quarterback Will Levis has been hit a lot this season. (Vicky Graff Photo)
Disappointed with Kentucky's 31-0 win over Youngstown State because the offense was not more dominant?
Many Kentucky fans certainly seemed to feel that way but that did not stop the Wildcats from moving up in both the Associated Press rankings and USA Today Coaches poll.
The Wildcats are now No. 8 in the AP rankings and No. 9 in the coaches poll after Saturday's win. That's one spot higher in both polls than last week after the win over Florida.
Both polls are dominated by the Southeastern Conference. Georgia and Alabama are 1-2 in both polls.
Other SEC teams in the AP rankings are Arkansas (10), Tennessee (11),  Mississippi (16), Florida (20) and Texas A&M (23).
The same teams are in the coaches poll with Arkansas staying at No. 10. Other ratings are Tennessee (12), Ole Miss (13), Texas A&M (20) and Florida (22).
Kentucky will play at Ole Miss Oct. 1 and Tennessee Oct. 29 before hosting Georgia Nov. 29.
Kentucky coach Mark Stoops knows the offense was not overly sharp against Youngstown State and has a rebuilding offensive line that has started a different lineup in each game this season. Kentucky returned two starters — center Eli Cox and guard Kenneth Horsey — but they are both playing next positions this year,
Kentucky has allowed 11 quarterback sacks, the most of any Southeastern Conference team. The Cats have also allowed 19 tackles for loss.
"Obviously, some things that continue to creep up and get a little bit aggravating and things to work on," Stoops said after Saturday's win. "Again, no panic button here. Things we truly believe we will get fixed."
"We've been through this before, even as recent as last year going through some ups and downs. And the continuity, working with guys. Down an offensive lineman with Tashawn (Manning not playing). And, you know, we'll continue to bring that unit along."
"It is aggravating to give up negative yardage plays consistently. We've got to get that fixed and run the ball downhill. There's a big difference between second and seven or eight and second and 12 or 13."