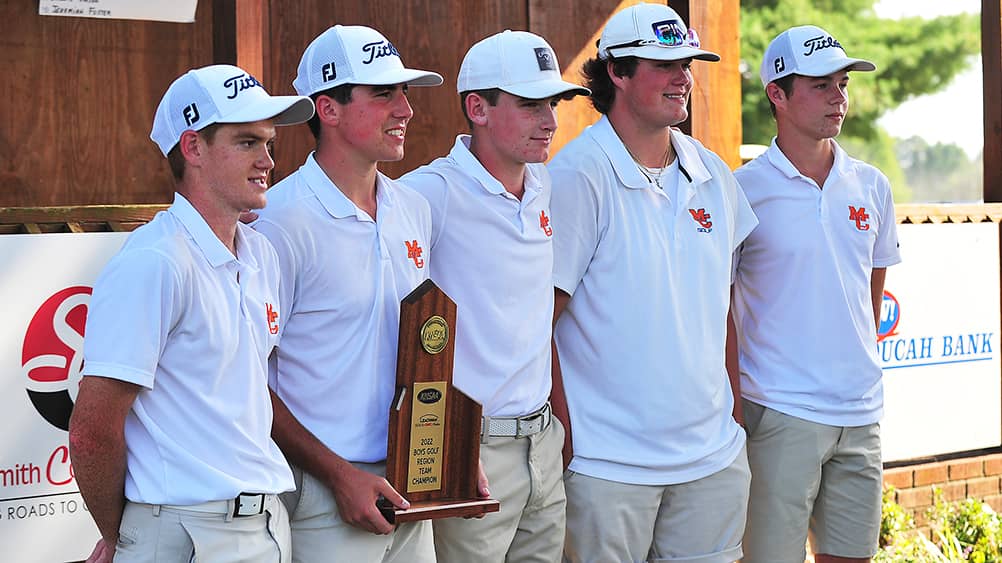 Marshall County swept team honors at the 1st Region golf tournament at Paxton Park in Paducah on Wednesday.
Senior Trey Wall shot a 1-under-par 70 to claim medalist, leading the way to a team championship for the Marshals with a score of 300.
Wall was one shot better than Trigg County's Hunter Reynolds, outdueling the Wildcat senior on a day when temperatures in the triple digits and windy conditions made things difficult on golfers.
Paducah Tilghman's Jack Butts was third at 73.
Lyon County's Travis Perry tied with Trigg's Ty Butts for fourth at 74.
Christian Fellowship's Hayden Engler tied for sixth at 75 with Paducah St. Mary teammates Luke Wilson and Aiden Hahn. Murray's Grant Whitaker and McCracken County's Cannon Ford also finished at 4-over.
Marshall's David Jack Morris was next at 76 while the Marshals' Ryan Stokes and Gunner Hoover were two of five players to finish at 77.
Also shooting 77s were Caldwell County's Collin Whittington, Crittenden County's Jeremiah Foster and McCracken's Dallas Vinson.
All of those players are headed to Owensboro Country Club on Monday for the State First Round tournament.
The top two teams in the regional qualify for the next round along with the next top 10 individuals.
St. Mary edged McCracken County by one shot for the second team spot, claiming runner-up 309-310.
Trigg County was fourth in the team standings at 315 while Caldwell County was fifth at 327.
All of Marshall's team qualifies for the State First Round — Wall, Morris, Stokes, Hoover and Logan Davis (79) — along with St. Mary's team — Wilson, Hahn, Palmer Sims (79), Tyler Mueller (80) and Jack Stewart (101).