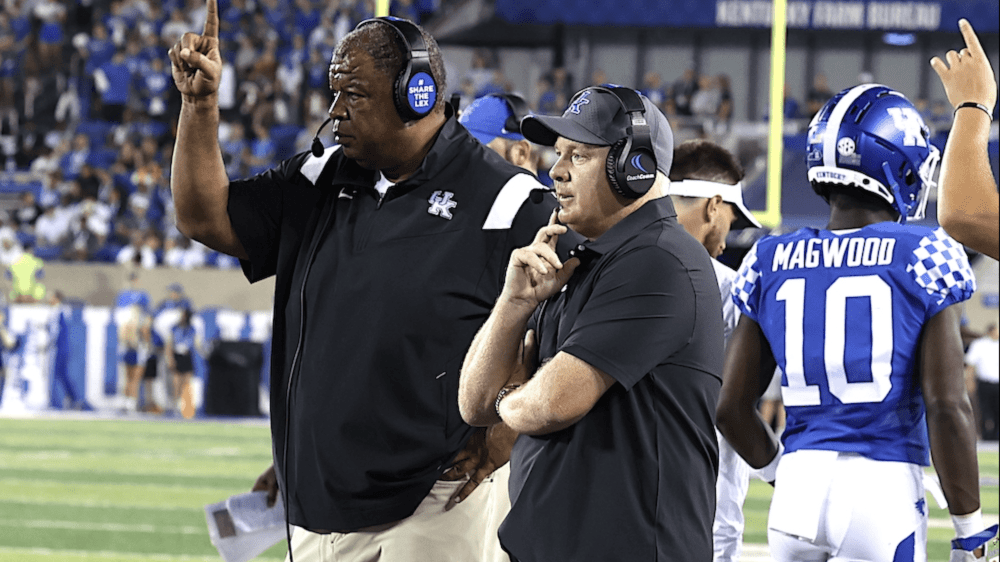 Vince Marrow has a loyalty to Mark Stoops and UK football because he grew up in Youngstown with Stoops. (Vicky Graff Photo)
If you need a reminder about what the UK football program was like when Mark Stoops took over, staff writer Joel Whetzel of the Youngstown Tribune-Chronicle had an insightful feature story on the UK coach.
"There was such a negative perception of that not only within Lexington or within the state, but also nationally and also within the same organization," Stoops told Whetzel.  "The players did not have the confidence that they needed, and there's only one way to get that confidence and that's to prepare."
"So we had to learn that Youngstown work ethic here for four years until they started grasping what it took to be successful."
Stoops felt the best way to overcome the "negative stigma" was hiring coaches with connections to Youngstown, Ohio, his hometown. On staff today are associate head coach Vince Marrow, linebacker coach Mike Stoops, safety coach Frank Buffano and graduate assistant Courtney Love — who all went to the same high school as the UK head coach.
"In this profession and as a head coach here for 10 years, there's a lot of coaches that come and go and a lot of players that come and go, and that's fine, and I appreciate and respect every single one of them," Stoops said.
"But with the Youngstown guys, I know exactly what I'm getting. I think that familiarity and the loyalty that we have with each other goes a long way."
And it helps on a week like this when UK has to put a difficult loss behind it and get ready to host South Carolina Saturday night.