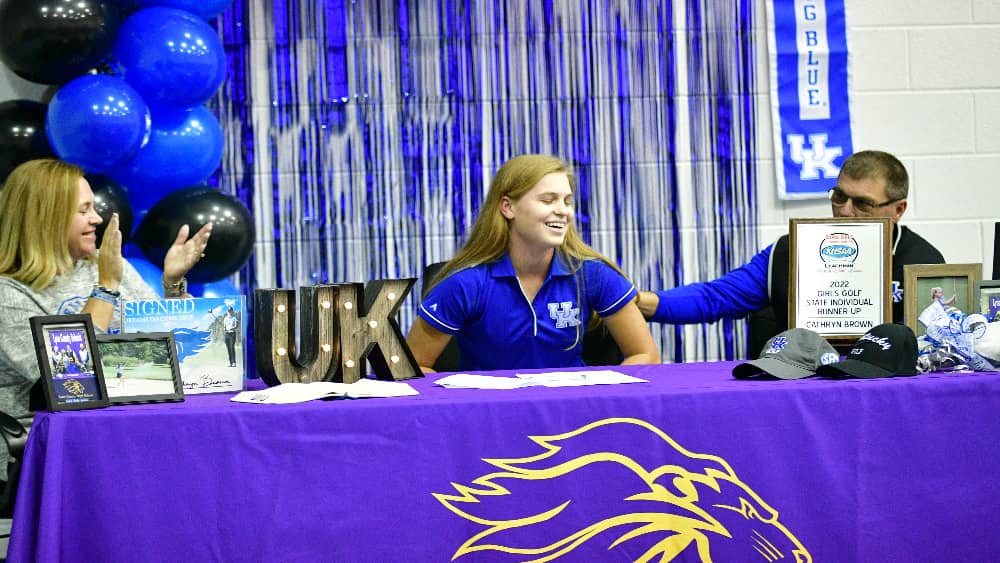 The next chapter in the golf book of Cathryn Brown will be written at the University of Kentucky after the Lyon County High School senior signed her letter of intent with the school Saturday.
Brown is coming off a senior season that saw her win tournaments at Trigg County and Bowling Green in addition to second-place finishes at the region, state first round, and the state golf tournament at the Bowling Green Country Club.
Brown was named to the All-Region Team and was named First-Team All-State by the Kentucky High School Golf Coaches Association.
But her journey on the course has been full of ups and downs. Just as Cathryn was starting to put her game together at the high school level, her older brother Cullan, a state champion at Lyon County and All-SEC freshman at UK, was diagnosed with a rare form of bone cancer. He died during the opening week of Cathryn's junior season.
She was able to forge ahead and put together top-five finishes at both the region and state tournaments. It served as a springboard for her offseason where she won the Kentucky Junior PGA title and played in the girls' U.S. Junior Amateau near Chicago.
Now, she will write her own chapter when she heads off to the University of Kentucky in the fall.
RELATED: CATHRYN BROWN REFLECTS ON STATE RUNNER-UP FINISH
RELATED: WATCH CATHRYN BROWN'S FIRST HOLE-IN-ONE
RELATED: 'GOD PUT THEM TOGETHER'
Cathryn Brown Signs with UK