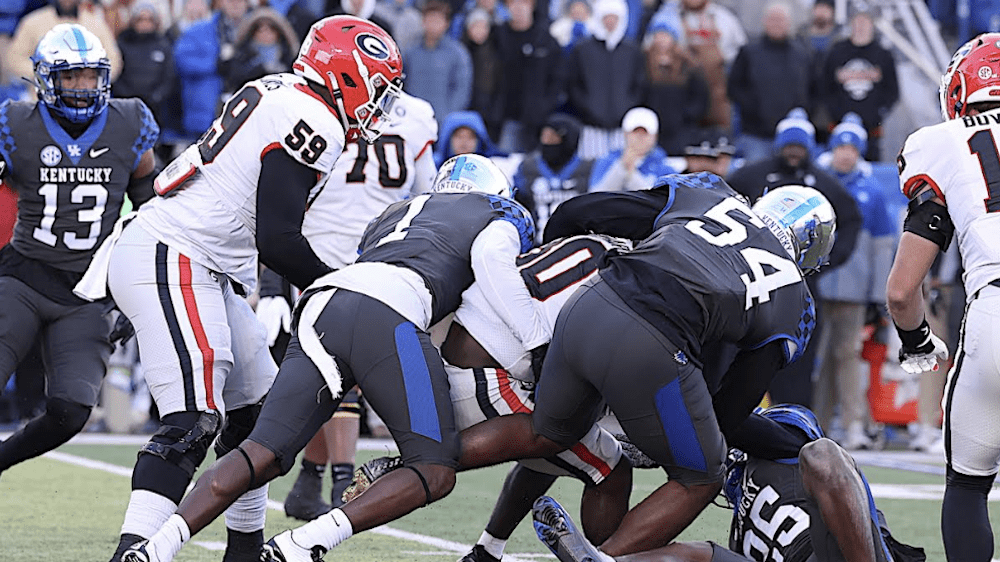 Kentucky's defense has been solid all season and has impressed Louisville coach Scott Satterfield. (Vicky Graff Photo)
Will Louisville quarterback Malik Cunningham play against Kentucky Saturday?
Maybe. Maybe not.
The dual-threat quarterback did not play last week against North Carolina State because of an injured right shoulder but the Cardinals still won.
Louisville coach Scott Satterfield called his status "day-to-day" at his press conference Tuesday.
"I expect him today to do some things (in practice). He won't do everything today," Satterfield said. "He's gonna be out there in uniform, he's gonna be practicing, but it's not going to be where he's getting normal reps. But he'll be out there
"We're hoping tomorrow to do a lot more, a lot more Thursday, a lot more Friday, then by Saturday be ready to go." 
The senior quarterback has thrown for 1,552 yards and eight touchdowns with four interceptions while also running for 561 yards and 11 touchdowns this season.
Kentucky held No. 1 Georgia to 16 points and under 400 yards last week in a 16-6 loss to the Bulldogs. Satterfield has been impressed with UK's defense but doesn't feel quite the same way about the UK offense — and Kentucky fans have to know why.
"They do an unbelievable job on defense," Satterfield said. "This year hasn't been a great year for them on offense, but they play great defense. They don't have to be great on offense. They can still be just as solid and be good."