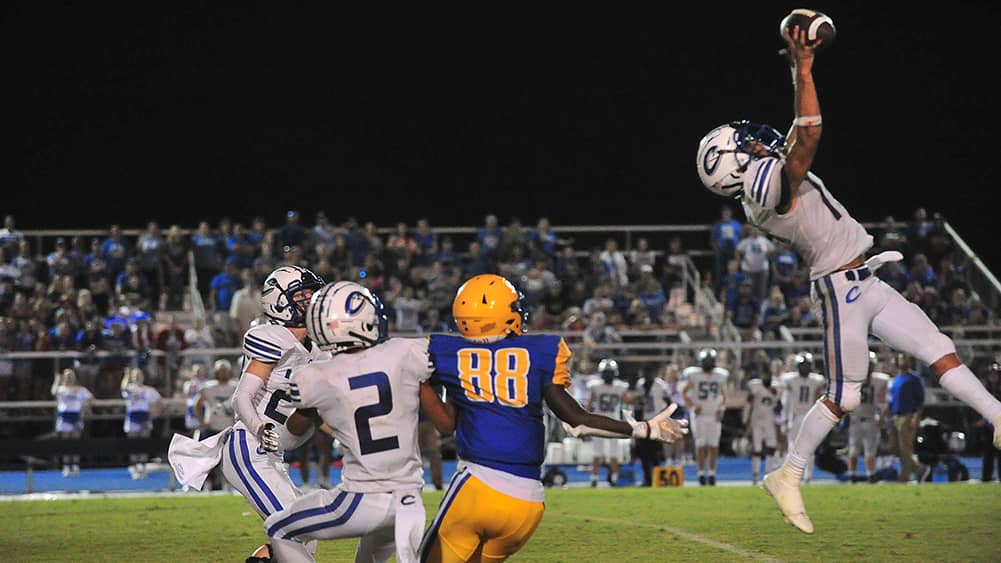 A draft alignment for Kentucky High School football for 2023-26 was made public Monday and there is considerable shuffling among schools in western Kentucky.
Schools were given the option to play up in class but had to make a request to the Kentucky High School Athletic Association and receive approval.
The highest 32 enrollments were placed in Class 6A with the lowest 32 schools in Class 1A. Classes 2A through 5A have 39 schools in each class.
The Board of Control will consider the 2023-26 draft alignment at Wednesday's Board of Control meeting. It will be finalized then or at the February 22 meeting.
The enrollment numbers were taken from the 2019-20 school year and the 2022-23 school year. Because enrollment numbers were not collected in 2020-21 and 2021-22 due to COVID-19, the 2022-23 enrollment numbers were doubled.
Class 1A
District 1 – Ballard Memorial, Caverna, Fulton County, Russellville
District 2 – Bethlehem, Campbellsville, Louisville Holy Cross, Kentucky Country Day
Ballard Memorial swaps places with Crittenden County to keep District 1 a four-team district. Fulton City is once again choosing not to field a team and Caverna returns to district play.
Fort Knox bumps to Class 2A but the rest of the district remains intact.
Class 2A
District 1 – Caldwell County, Crittenden County, Mayfield, Murray
District 2 – Edmonson County, Fort Campbell, Owensboro Catholic, Todd County Central
Crittenden County and Ballard Memorial swap places to keep District 1 a four-team district. Caldwell County and Crittenden County could have chosen to play up to 3A and have more geographical rivals such as Trigg County, Union County, and Webster County.
District 2 has a considerable new look as McLean County, Hancock County, and Butler County bump to Class 3A. Edmonson County drops from 3A and Fort Campbell moves over from District 1. Owensboro Catholic is left in good shape as the rest of the district has a combined 21 straight playoff losses.
Class 3A
District 1 – Hancock County, Hopkins County Central, McLean County, Trigg County, Union County, and Webster County
District 2 – Adair County, Butler County, Franklin-Simpson, Glasgow, Hart County
The biggest shakeup in western Kentucky takes place in Class 3A. Trigg County, Union County, and Webster County remain in the district but Paducah Tilghman moves to 4A, and Hopkins County Central drops to 3A. Hancock County and McLean County bump to 3A making District 1 a six-team district, meaning teams will likely have to win two district games to advance to the postseason. It also can make scheduling more difficult because of fewer non-district slots.
Trigg County was last in the same district as Hancock County in 1999 and 2000. Trigg and McLean were in the same district from 1997-2000.
District 2 has a new face. Franklin-Simpson, who won back-to-back Class 4A state titles in 2017-18, makes the move down and makes District 2 one of the more competitive districts in 3A.
Class 4A
District 1 – Allen County-Scottsville, Calloway County, Hopkinsville, Logan County, Paducah Tilghman, Warren East
District 2 – Bardstown, Breckinridge County, John Hardin, Nelson County, Thomas Nelson
Whew boy. District 1 is a gauntlet. Paducah Tilghman and Warren East join the district while Madisonville moves up. And Logan County and Hopkinsville stay in what will be a six-team district.
Bardstown joins District 2 but the other schools can't like their potential first-round playoff opponents from District 1.
Class 5A
District 1 – Apollo, Graves County, Madisonville, Marshall County, Muhlenberg County, Owensboro
District 2 – Bowling Green, Grayson County, Greenwood, Ohio County, South Warren
Graves County and Owensboro are the only holdovers. Apollo, Marshall County, and Muhlenberg County drop down and Madisonville moves up into what will be a six-team district.
Three of the seven six-team districts in the new alignment will be in western Kentucky.
Bowling Green and South Warren will continue to knock heads in District 2 along with Greenwood. South Warren was slated to move to 6A but enough teams opted to move up and leap-frogged them on the enrollment ladder.
Class 6A
District 1 – Christian County, Daviess County, Henderson County, McCracken County
District 2 – Barren County, Central Hardin, North Hardin, Warren Central
Christian County is moved to Class 6A in anticipation of the consolation of Hopkinsville High and Christian County High. When the combination of the schools happens, the new Hopkinsville-Christian County Academy will assume Christian County's schedule. Most contracts are signed in two-year cycles.
Christian County moving up to 6A moves them out of a 5A district with Bowling Green schools where they didn't win a postseason game during the four-year cycle.
In District 2, Warren Central moves up two classes and actually will benefit from the move by leap-frogging the Bowling Green 5A powers.