The Heritage Christian Academy girls' basketball team nearly pitched a first-half shutout on Friday against visiting Bethel Christian Academy, improving to 6-1 in KCAA play with a 34-11 victory over the Blue Flames.
Hallie Zieg scored six first-quarter points, and the Lady Warriors led 13-1.  Bethel's lone point came on a free throw after a technical foul.
Neither team scored over the first seven and a half minutes of the second frame before a Bailey Craft jumper and a putback by Zieg gave HCA a 17-1 halftime advantage.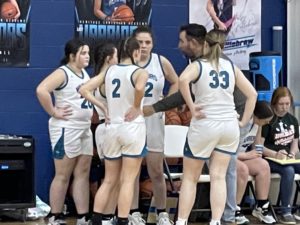 Zieg added four more points in the third, including a pair of free throws to give the Lady Warriors a 21-point cushion with a quarter to play.
HCA outscored Bethel 9-7 over the final eight minutes.  Craft scored four more points to finish with nine, and Zieg led all scorers with 14.
Heritage Christian will be back on its home floor on Tuesday for a visit from New Covenant before the Lady Warriors compete in the KCAC state tournament on January 27-28.
Bethel Christian           1     0     3     7 — 11
Heritage Christian      13    4     8     9 — 34
Bethel Christian (2-7) — A. Hatfield 5, Spencer 4, E. Hatfield 2
Heritage Christian (8-6) — Zieg 14, Craft 9, Cherry 5, Carr 2, Robson 2, St. Martin 2