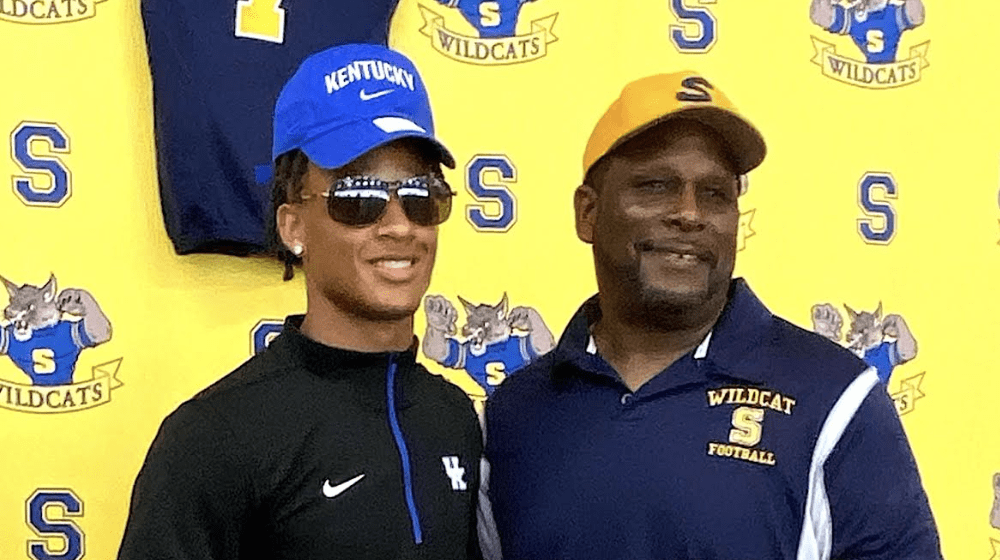 Coach Maurice Douglass, a former UK defensive back, says receiver Anthony Brown has "toughness that is God-given."
Just how good is recent Kentucky football signee Anthony Brown of Springfield, Ohio?
ESPN, 247Sports and Rivals all rank the 5-10, 170-pound receiver as a four-star prospect but his high school coach, former UK defensive back Maurice "Moe" Douglass, is not sure that does him justice. Instead, he compares him to former Heisman Trophy winning Alabama receiver DeVonta Smith who had over 1,800 receiving yards and 23 touchdowns his senior season and has over 150 catches already in two NFL seasons with the Philadelphia Eagles.
"Anthony is tough with the ball and gets in and out of his cuts so well. He has great hands," said Douglass. "His routes are so good. That's why I say he's similar to Smith. I am really excited about what he can do at Kentucky. I know he's eager to learn the system. It's going to be a little different for him but if he gets it together he can be a special player."
He had 83 catches for 1,626 yards — 19. 6 yards per catch — and 20 touchdowns in 2022 when his team went 13-2 and reached the state title game where he had six catches for 106 yards and one score. He averaged 26.9 yards per kickoff return with one touchdown and 16.6 yards per punt return.
"He was as good as I thought he would be this season, and I knew when I saw him in elementary school that he could be special," Douglass said. "He had put in so much work during high school. This year we also had a new quarterback who was more prone to shuffle and find windows to throw and give other players a chance to make plays rather than take off running. He threw for over 4,700 yards and we had another kid who caught over 90 passes. But Anthony definitely stood out."
That's why Tennessee, Penn State, Michigan, Cincinnati and Oklahoma were among the other offers for Brown, who enrolled at UK for the spring semester.
"Our short pass game was like our run game to get playmakers in space and Anthony did a tremendous job," Douglass said. "He got so much better with his eye control this season. He may have dropped a pass or two in the past worrying about making a play before he caught the ball. This year he didn't do that and when he got the ball he would make something happen.
"He might have gotten antsy at times last year because he knew he had about a 3-second window to get open and then the quarterback was running. This year he could complete the route and the quarterback would get him the ball."
Brown is not a big receiver like UK freshman Dane Key but he's what Douglass calls a "tough" receiver. He has a brother playing football at Minnesota and a brother who ran track at Oklahoma.
"His toughness is God-given. From my understanding, his dad was a crazy athlete physically and into boxing and stuff like that," Douglass said. "All his boys are great athletes and to have three boys participating in Division I sports is crazy. But Anthony is the best of all three. His older brothers were good teachers."
Douglass said Brown did "so many impressive things" last season but the coach will always remember what he did against Fairmont High School, one of Springfield's rivals.
"We had driven the ball and they got a stop. We kicked a field goal and they blocked it and ran for the TD," Douglass said. "The kickoff after the blocked field he picks it up at the 10-yard line and takes it to the house (end zone). That was one of the most exciting and important plays he made for us. We went from the outhouse to the penthouse on the next play. That's what he can do.
"He's an explosive player who has the potential to make a home run play on special teams or from the slot or the backfield. He can play anywhere."
Brown played basketball as a freshman and also ran track. He even played in the defensive secondary as a sophomore for Douglass along with receiver.
"He's just an extraordinary athlete but he's also a great human being," Douglass said. "He has a great support staff at home. He's a tremendous kid and a polished receiver. He has some fine tuning to do but I think he's going to do just fine at Kentucky."