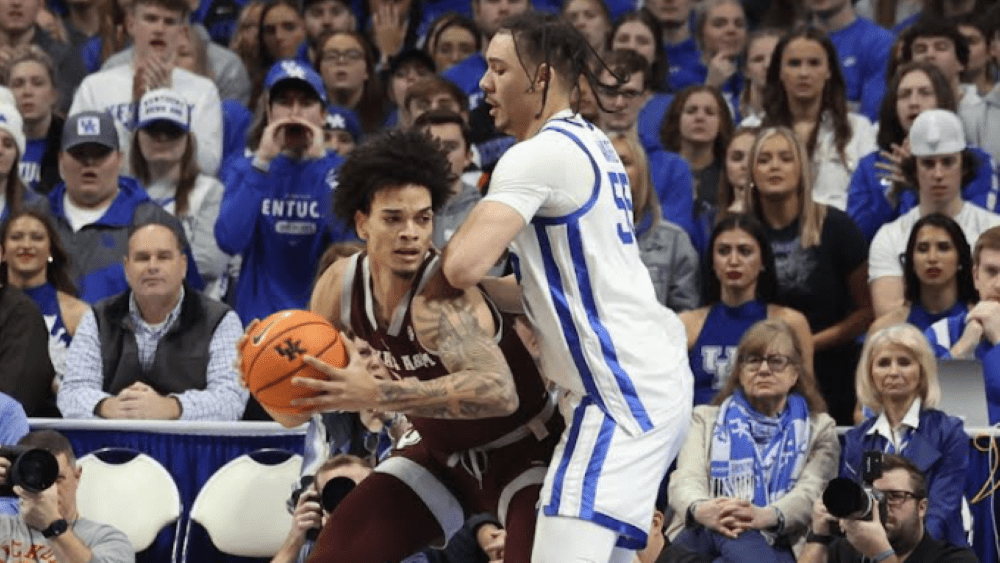 Lance Ware (Vicky Graff Photo)
If Lance Ware has to play 15 minutes every games, it would not be a good thing for Kentucky basketball because he's just not an offensive threat.
But there will be games for various reasons where he has to play more than normal and one came Saturday against Texas A&M because all-American Oscar Tshiebwe got in first-half foul trouble.
That meant John Calipari needed him for 15 minutes in UK's 76-67 victory and Ware produced. He got four rebounds and had an assist. He did not make a turnover. He did not score but he only took one shot. His biggest negative — 0-for-2 at the foul line.
For the third straight SEC game in Rupp Arena, Kentucky trailed at home at halftime. That had never happened since UK started playing in Rupp 46 years ago.
"We went into the second half down, but not a situation that we weren't in  last week against Georgia," Ware said. "Just kind of being resilient and just keep on fighting and things are going to happen. We're going to make shots and stuff happens."
His defense and rebounding helped that happen because the Aggies wanted to make it a physical game and get Kentucky out of sync. That's a style Ware relishes.
"I think that is, especially them trying to go to Oscar early and be physical with him and get him a quick foul that kind of changes the dynamic of our team," Ware about said the physical play.  "But something that we're getting better at and we're matching their physicality and obviously being more physical."
"We've got unbelievable leadership. Lance is an unbelievable leader. Maybe not playing a whole lot but still leads. Still is a big piece of what's going on," Calipari said after the win.
And what will Ware add when he's called on?
"The same stuff I'm bringing —  energy, effort, rebounds. If I see guys doing physical kind of matchups and physicality and  bring my own physicality to the team," Ware said.