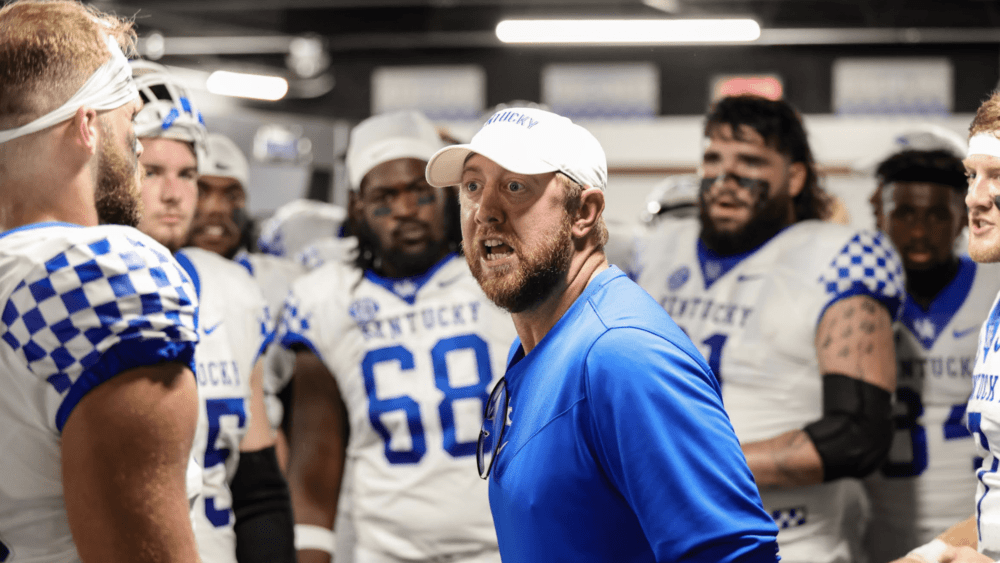 Offensive coordinator Liam Coen believes transfer quarterback Devin Leary can throw the football as well as any player in the country. (UK Athletics Photo)
New Kentucky offensive coordinator Liam Coen had a potent offense when he was at UK in 2021 behind the running-passing of Will Levis, big-play receiving by Wan'Dale Robinson and dominating running by Chris Rodriguez.
He's back at UK with the same job — and a three-year contract worth $1.8 million per year —after spending the 2022 season with the Los Angeles Rams.
Coen knows he needs to "help fix" the offensive woes UK had last season but says it may  not look exactly like it did in 2021. He said it's about using his best 11 players. If that happens to mean two or more tight ends, he'll do that.
"We are going to utilize personnel in different ways than last time. It will not be the same offense," Coen said. "It will be done differently because of how the roster is. The core foundation and beliefs are the same but the way we attack might be different just because of the personnel we have."
North Carolina State transfer Devin Leary likely will be the starting quarterback. Levis transferred to UK from Penn State to play for Coen and is on the verge now of being a NFL first-round draft pick after barely playing at Penn State. Leary has been a starter at North Carolina State and had some big games before an injury ended his season in 2022.
"Devin is a player from south Jersey that has that 'it' factor. He can play the game, a true natural thrower of the football," Coen said. "He's coming off an injury and we feel he can do good things.
"He's different from Will, a different style player. We might have to do some things differently from last time but I am excited to have somebody who can throw at a high level. He can also lead and that's important at the quarterback position."
Leary threw for 6,807 yards and 62 touchdowns with 16 interceptions at North Carolina State and ran for five scores.
"I believe this guy can throw the football as good as anyone in the country," Coen said.
Coen said Leary obviously wants to win games and compete for a SEC championship but also develop his skills for a NFL career.
"He knows that he needs to jump under center a little more and do some of the things that he hasn't done in his career yet up to this point — in order to have some more comfort going in to play at the highest level of football," Coen said. "I think we're all on the same page in terms of that dialogue.
"A  lot of this is going to be about Devin and what he's comfortable with, it's his last year of football. and I'd be crazy to walk in there and say, 'This is what you're doing. This is how you're doing it,' when maybe he's completely uncomfortable doing some of those things.
"It's going to be a collaboration — some of the things that he was successful with in his past, but also some of the things that we know we need to do in order to operate in the SEC."