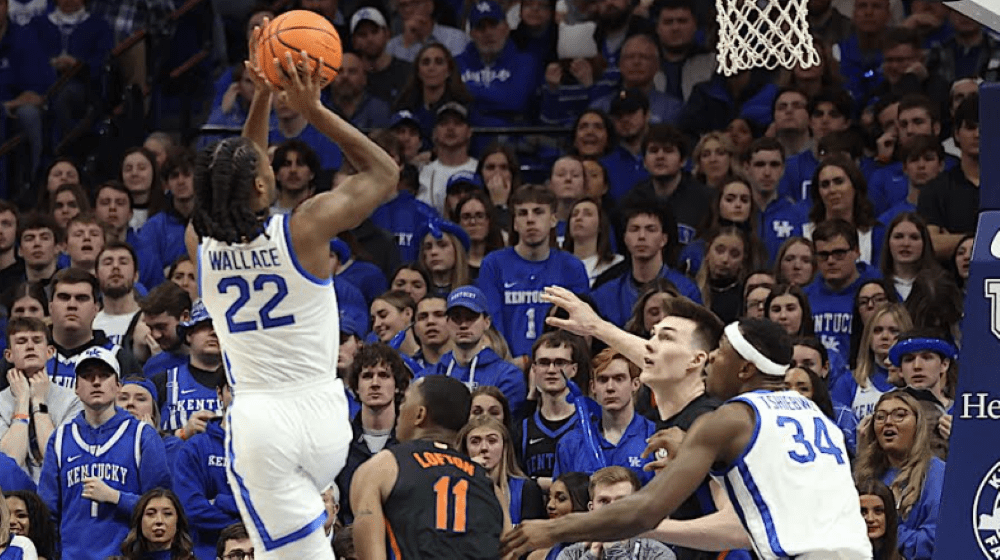 Cason Wallace made shots against Florida that defied the scouting report. (Vicky Graff Photo)
Florida coach Todd Golden had one word — "great" — to describe the play of Kentucky freshman guard Cason Wallace after his stellar play against the Gators Saturday night.
"I thought I would say he beat the scout a little bit, you know, in terms of what I instructed our guys to do," Golden said.
Wallace went 7-for-10 from the field to score 20 points but also had three rebounds, three blocks and two assists. He was 5-for-5 at the foul line and his two late free throws sealed the 72-67 victory over the Gators.
"I thought for the most part our guys executed our defensive coverages. He stepped up and made some big shots, right," Golden said. "He was 7-for-10 from the field and hit a big time step-back 3, which is just a shot that we got to live with against this team and made all his free throws.
"Pretty sure he made three or four mid-range jump shots, which is a little bit more than you like, but you've got to pick what you're going to give up against a team like this and you know, I'm always going to be okay with the opposing team shooting mid-range shots. You've got to tip your cap when they beat you in that case."
Wallace came up huge on a night when UK's top two scorers, Oscar Tshiebwe and Antonio Reeves, both had only four points.
"It just depends on who's having their night. Everyone is a great player and is capable of scoring the basketball, so it just depends on whose night it is," Wallace said as he tried to downplay his totals.
He admitted he didn't even realize how big his late 3-pointer was to help UK win its sixth straight SEC game going into tonight's game against Arkansas.
"It just shows how comfortable I was and how my teammates believed in every shot I would take," Wallace said.
Kentucky coach John Calipari said senior point guard Sahvir Wheeler told him to keep giving the ball to Wallace late in the game.
"It gave me a lot of confidence knowing he wanted the ball in my hands. When you get to play with a teammate that doesn't care about his own play and wants you to succeed, that's a great teammate and a great person," Wallace said.