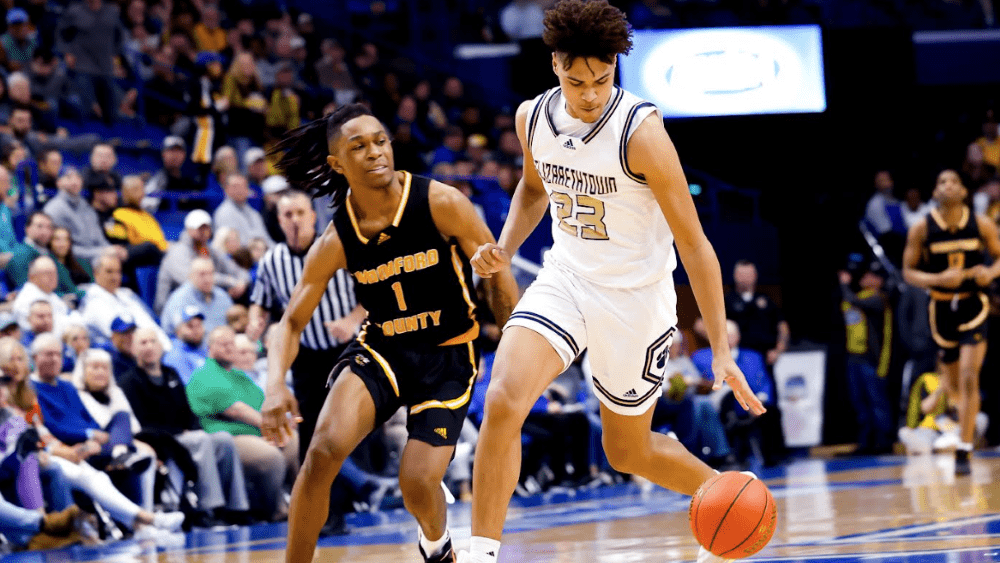 Makhi Smith (1) thinks having a lot of football players on the Woodford basketball team is a big help. (Les Nicholson Photo)
Jaron Brown wasn't exactly sure what to say after Woodford County outlasted Elizabethtown Friday 59-48 to reach the state tournament semifinals on Saturday.
"I am at a loss for words. It is my first time to get here as a coach or player," Brown said.
Brown was a Kentucky all-star who played at Bryan Station and later scored over 1,000 points at Pittsburgh. He averaged 23.7 points and 7.8 rebounds per game his final high school season but his team did not win the region to reach the state tourney.
This is his fourth year at Woodford and the team started 0-3 but overcame injuries to surprise many by winning the 8th Region and now has two wins at the state.
"Starting 0-3, people doubted us," said senior Aden Nelson, the coach's son who had 16 points, five rebounds and two assists Friday. "We believed. We just proved it and we are proving it now."
Woodford won by making 25 of 29 free throws — Jasper Johnson was 6-for-6, Nelson 6-for-7 and Makhi Smith 7-for-8. The Yellowjacks were 17-for-20 from the foul line in the fourth quarter.
Johnson, a four-star sophomore ranked in the top 30 in his recruiting class, had 16 points, four steals, four rebounds and three assists to help offset an unusually high seven turnovers against E-town's aggressive defense.
Center John McCrear, a Murray State signee, has missed most of the season with a knee injury but had six blocks, five rebounds and two points.
"We have a lot of sophomores and some injuries. It's been kind of hard," Brown said.
However, Nelson knew what the win meant to his father/coach and the swarm of Woodford fans who had been at Rupp Arena for two wins.
"This means a lot to me. That's my dad. It means a lot to him because he did not get this far as a player. I think a lot about this," Nelson said. "It means a lot to our community. It's been like 36 years since we have been here. How they have supported us means a lot to us."
McCrear, UK football associate coach Vince Marrow's nephew, said the team did not pay attention to doubters.
"They don't know what we go through," McCrear said. "I feel like us making it here is a big thing. We have stayed in the same hotel (during the tournament) and we are closer than we have ever been."
The Woodford coach says a healthier McCrear has helped his team.
"He's 6-7 and he changes the game a lot," Brown said.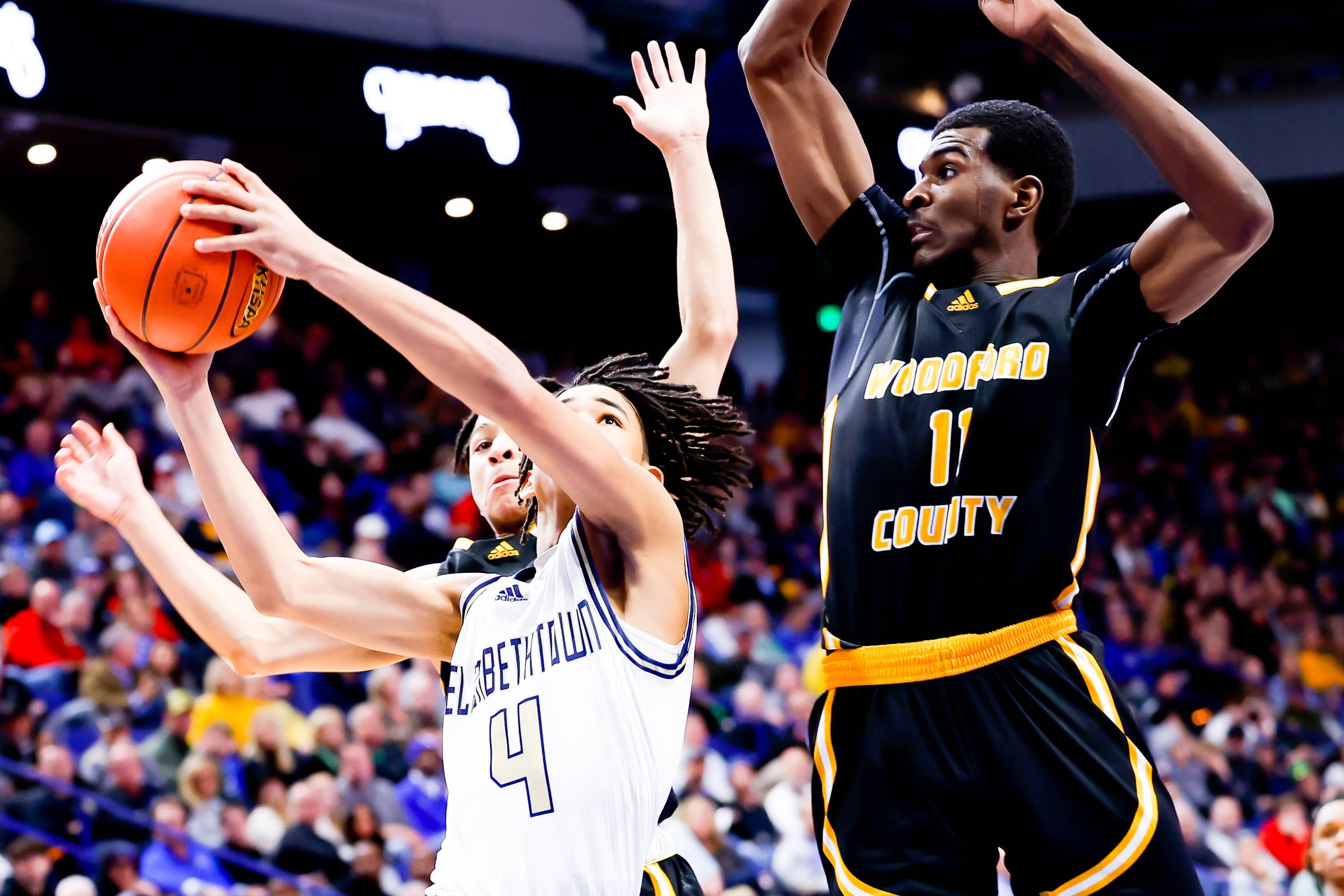 McCrear helped hold 6-7 E-town star Ayden Evans to 12 points, including just two in the second half.
"Starting off I knew I had a tough matchup. He's a tough player and one of the best bigs in the state. Turning him off was big. We completed that," McCrear said. "We started seeing him shut down in the second half. We tired him out."
McCrear didn't tire out in his 17 minutes when it came to shot blocking.
"I have always been known as a shot blocker. A lot of people told me yesterday that I didn't seem like myself (in Woodford's win over Jeffersontown)," McCrear said. "That stuck with me. It fueled me. Blocking shots is hard. You have got to time everything and get your timing back. Six blocks warms my heart."
Woodford has a number of football players on the basketball team and that helped in two physical games at the state.
"Physical is our kind of basketball with our defense and how much we take it to hear to shut off the other team's best player," Nelson. a West Virginia football signee, said.
Smith, a sophomore, has a Kentucky football offer and believes the fast action in football carries over to basketball. "I feel like playing football helps a lot," Smith said.
Woodford has now had its football, baseball and basketball teams make the Final Four since June.
"We are not a basketball school. We are not a football school. We are an all sports school and showing it as a program," Nelson said. "It's big for the school to be hitting on all sports. The atmosphere is crazy for all sports. It is a great thing."
McCrear joked he had a little different view, one his uncle Vince Marrow probably appreciates.
"I feel football gets a little more love but it is a big thing that all the fans come out and support us. It is big and we want to play well for our fans," McCrear said.
* * *
Woodford will play No. 1 Warren Central in the semifinals Saturday at 11 a.m.