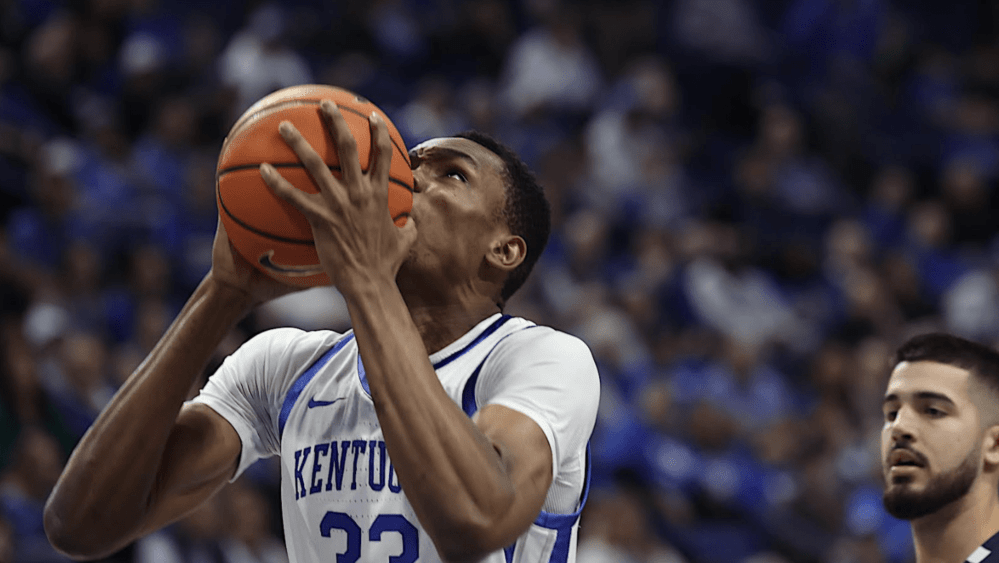 Ugonna Onyenso barely played the last two months but he expected his freshman year to be a learning season. (Vicky Graff Photo)
When Oscar Tshiebwe was in no hurry to talk to the media after Sunday's loss to Kansas State, it was freshman Ugonna Onyenso who briefly talked to his older teammate and explained people were waiting on him. Tshiebwe responded by turning and talking to media members.
While others might not be sure if they will be back at UK next year, Onyenso confirmed after the loss he would be back and teammates believe the 7-footer has a bright future with the Cats.
During his final radio show one night after UK's loss, Kentucky coach John Calipari indicated he might play Onyenso and incoming freshman Aaron Bradshaw, who is 6-11, together next season to add shot blocking — something UK has been missing the last three years.
"We may be able to play two 7-footers at one time because they're both skilled. They both can shoot. They can shoot 15-footers, one can shoot 3's, so you have two 7-footers that, if you choose, you can play them together."
Calipari also said he thought Onyenso had a "chance to be special" and indicated he thought he could be the "best big guy, if not one of the best big guys in the country next year."
Remember Onyenso played in only one game after Jan. 21. But he did continue to improve his offensive skills practicing against Tshiebwe, Lance Ware and others. He said going against Tshiebwe taught him how to be more physical
"I probably won't have Oscar, Jacob (Toppin) around next year. I know that's a position I need to fill. The things they didn't achieve. I will work to achieve it for them and our team," Onyenso said.
Onyenso reclassified last summer to get to Kentucky a year early and did not come to UK with huge expectations. Instead, he understood and enjoyed the process.
"I've been wanting to play for Kentucky. It was my dream," he said. "I'm waiting for my time like I knew I would have to and that was okay."