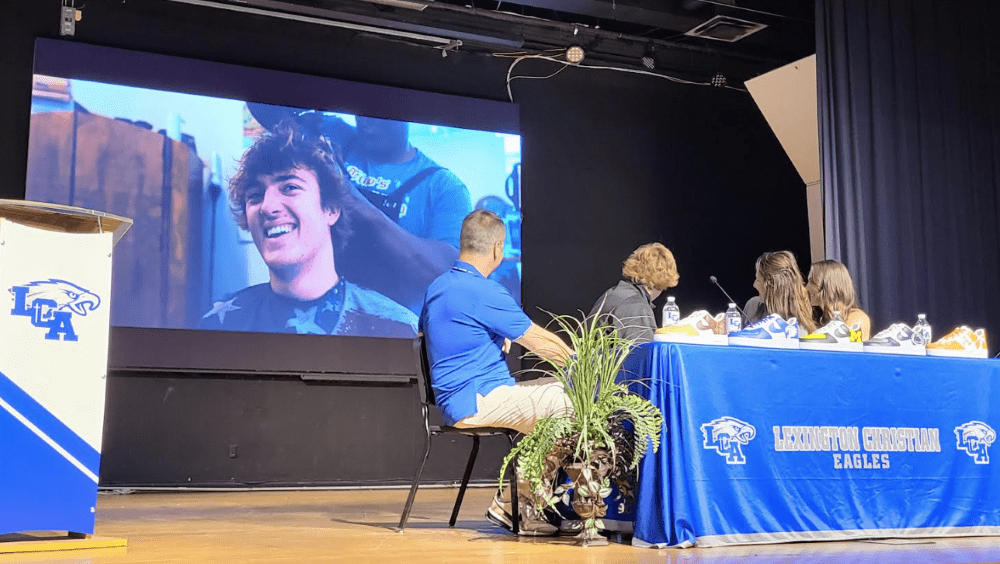 Quarterback Cutter Boley and his family watched his commitment/highlight video last week before he verbally committed to UK. (Larry Vaught Photo)
Just when I thought I knew about everything I could about Cutter Boley, reader Randy Worley shared some information about the Kentucky quarterback commit that I had heard nothing about.
Worley let me know about an 8th-grade AAU basketball team out of Louisville — Kentucky Kings — that Boley played on. The junior did not play basketball last season at Lexington Christian but he averaged 13 points and 5.2 rebounds per game as a sophomore at LaRue County and averaged 11.2 points and 3.7 rebounds per game as a freshman.
The Kentucky Kings finished the season ranked ninth nationally according to Worley but never played together again because of summer football practice commitments.
Here are the other players on that team and updates on them according to Worley:
— Cole Hodges, Louisville Christian Academy quarterback with multiple Division 1 offers.
— Shan Boykin's, North Hardin receiver who has verbally committed to Louisville.
— Gavin Chadwell, North Laurel basketball player who has a D1 football offer from UK.
—  Justin Ruffin,  Louisville Christian Academy receiver with multiple D1 football offers.
— Kaden Magwood, Oak Hill Academy basketball player with multiple D1 basketball offers).
— Christian Doerr, Evangel Christian basketball player with multiple basketball offers.
"There were also four other kids who have lower basketball offers," Worley said. "Just thought that collection of talent was interesting. Coach had a good
eye for talent and putting a team together from across the state."