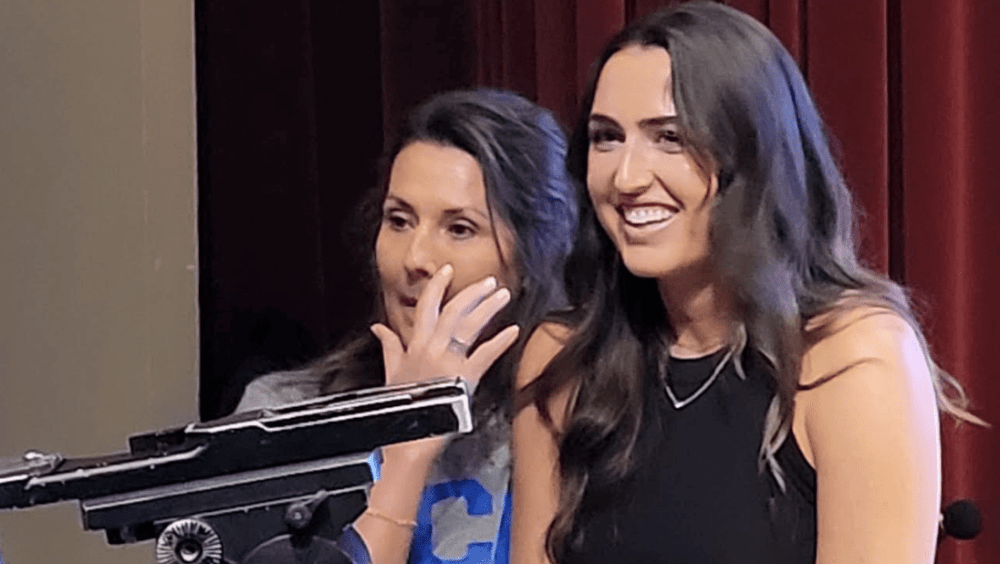 Erin Boley, right, was all smiles when her brother, Cutter, committed to play football at Kentucky. (Larry Vaught Photo)
Lexington Christian Academy junior Cutter Boley is a gifted quarterback, one of the best in the nation according to every recruiting service and the bevy of major college coaches that recruited him.
The 6-5, 205-pound Boley verbally committed to Kentucky last week over Tennessee, Michigan, Penn State and Florida State — the other schools in his final five.
However, what says a lot about Boley is who attended his commitment ceremony. Current Lincoln County coach Josh Jaggers, a former UK offensive lineman, coached Boley during the 2020 and 2021 seasons at LaRue County. He was at LCA for the announcement.
"No way was I going to miss this," Jaggers said. "He's a special player and young man."
Taylor County junior offensive lineman Hayes Johnson, the first UK commitment in the 2024 recruiting class, also  made the drive to Lexington. He arrived just a few minutes before Boley made his decision public but stayed to visit with him after the ceremony.
"He's going to be special for our recruiting class. Everybody likes him," Johnson said.
Boley's sister, Erin, a three-time Kentucky Gatorade Player of the Year and 2016 Gatorade National Player of the Year, made the drive from Atlanta where she now lives to be there with her brother.
"It's important for me to be here," Erin, who played basketball at Notre Dame and Oregon, said. "No way was I going to miss this. I don't get to see all his games (in person) but I was not going to miss his big day."
LCA coach Doug Charles says Boley truly checks all the boxes for a special player on and off the field.
"This will give you an idea of the character of this kid. We had UAB (coaches) come in this morning to watch one of our kids and wanted to see him catch (passes)," Charles said. "Now this is a pretty big day for Cutter and he was out there at 7 o'clock this morning throwing balls for a kid trying to get a scholarship and then took his linemen out to breakfast this morning before this commitment.
"He is the real deal as a player and person. Not just on the field but off. We just tell him not to change and he will be awesome."