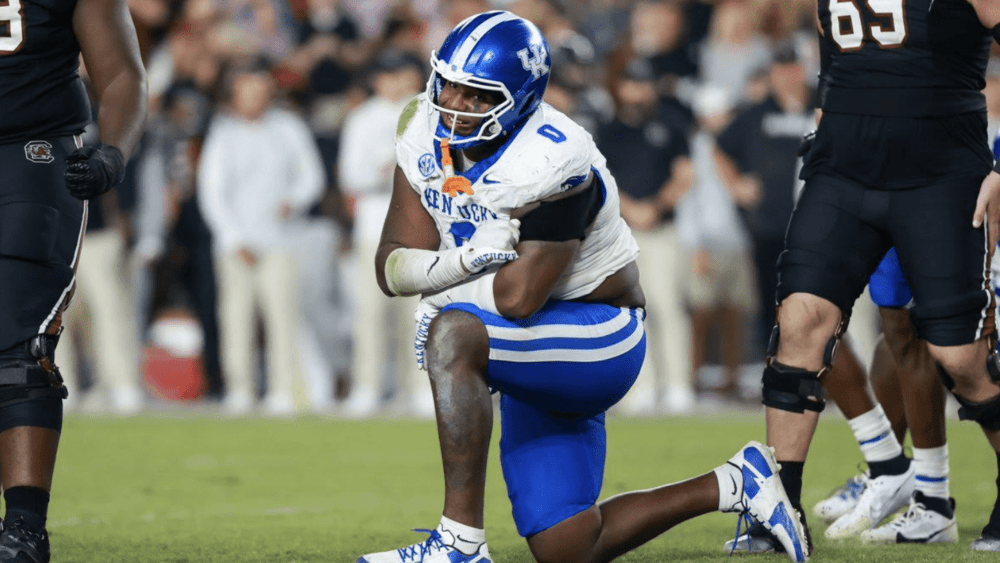 UK Athletics Photo
Deone Walker came into this season considered one of the nation's premier defensive linemen.
He was a freshman All-American and preseason All-Southeastern Conference pick.
He has that rare combination of speed, athleticism and power that few athletes do and made many wonder if he might transfer from UK after the 2022 season to play for a prominent national power. However, he stayed at UK to let defensive line coach Anwar Stewart continue to push him.
Defensive linemen are often double teamed and total tackles cannot always be an accurate measurement of the impact a player makes in a game. Walker often has pressured quarterbacks/runners without making the tackle and UK coaches/fans feel he has been held many, many times that have not been called.
Walker had a SENSATIONAL game at South Carolina Saturday night even though UK lost 17-14. He had the kind of game that will have NFL scouts/personnel counting days to the 2025 draft when he can be picked.
He had nine total tackles, including eight solo stops. He had two tackles for loss, one quarterback sack and one quarterback hit. Walker was a big reason the UK defense forced six 3-and-outs by South Carolina in its final nine possessions.
Kentucky Radio Network announcer Tom Leach said he felt it was as "fine of an individual performance" by a UK defensive player since Josh Allen, the 2018 national player of the year and current NFL standout, left UK in 2018.
"He played really well," Kentucky coach Mark Stoops said. "Some plays he made were really big. Getting them behind the chains was really big and he really had a great game."