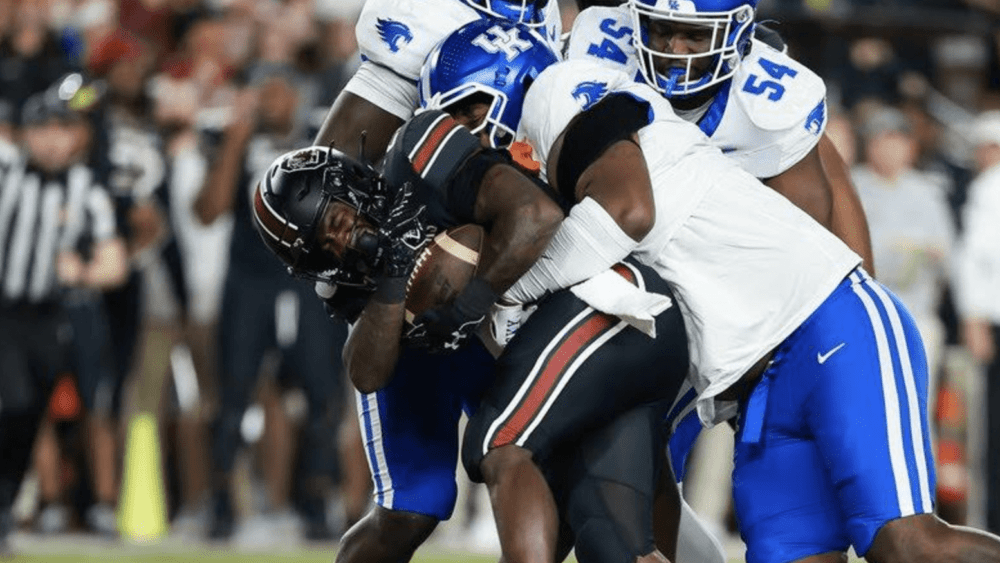 UK Athletics Photo
If you think you were frustrated/confused by Kentucky's play in its 17-14 loss at South Carolina Saturday night, then you have company in former Kentucky players Jeff Piecoro and Jeremy Jarmon.
Both are members of the UK Radio Network and both were in Columbia, S.C., for the game.
"I have never seen that in a game," Piecoro, a former receiver, said after the game when talking about UK offensive linemen pulling in opposite directions on the same play.
Jarmon was a dominant defensive lineman who went on to play in the NFL.
"Especially this late in the season when the OL should be in sync," Jarmon said. "It just seems guys weren't focusing on the play call."
What about three turnovers, including two interceptions by quarterback Devin Leary?
"You are not going to overcome that on the road in this league," Jarmon said.
The duo did not mince words about the team UK let win.
"South Carolina is not a great team. Very one dimensional. They can't run the ball," Piecoro said.
Jarmon was visibly perplexed by what he saw and why UK didn't have better leadership, an obvious issue during UK's 1-5 skid.
Even South Carolina coach Shane Beamer admitted it was an "ugly game" but noted that his "best players on offense made big-time plays" to win the game.
Kentucky's "big-time" players, or players who are so supposed to be big-time players, couldn't when it mattered most against a South Carolina defense ranked 106th nationally in total defense (413.6 yards per game) and 93rd in scoring defense (28.6).
The Wildcats managed just 296 yards of total offense. Leary completed 17 of 35 passes for 171 yards and one touchdown. He was brilliant at times with his passing but the offense could not hit on deep balls again when a UK receiver had a defensive back beaten.
"We did not play good defense in the months of October and September, too, in a lot of ways – gave up too many explosive plays and a lot of missed tackles and just didn't do a great job," Beamer admitted.
"The message was just continue to get better and continue to do your job better and take ownership better."
South Carolina did all that while UK again helped stop itself on offense.