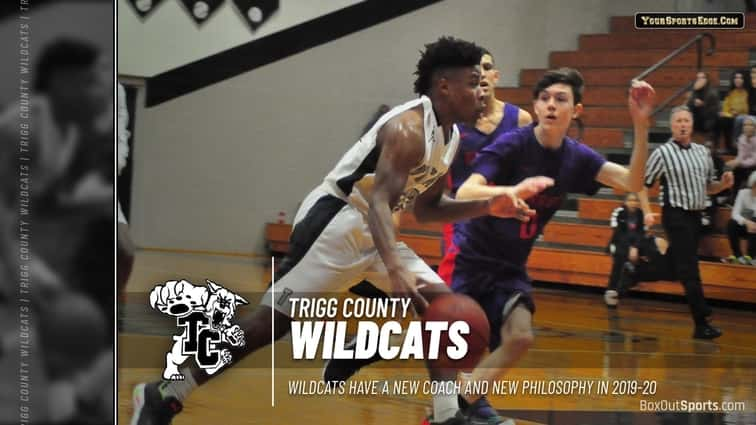 Trigg County will be looking to return to their running and pressing ways in 2019-20 as Chad Burgett brings that style back to Wildcat Gym.
Burgett, who coached at Dawson Springs and led Hopkins County Central to a region title 20 years ago, takes over as coach of the Wildcats.  He replaces Payton Croft who left for Mayfield after winning 85 games and three district titles in six seasons as Trigg coach.  However, the Wildcats were 30-50 in his final three seasons and failed reach the region tournament.
While those teams were usually in the top five teams in points allowed in the region, they were also among the lowest scoring teams in a region where the upper echelon scores in the 70s ad 80s.
Burgett promises the Wildcats will be a more up-tempo team, one predicated on scoring through pressure defense and 3-pointers.  While that style of play hasn't produced high scores in their two preseason games, Burgett feels he has the pieces in place to put points on the board by the postseason.
Trigg County returns six of their top eight scorers from last year's 11-17 team that went 1-5 in district play and lost to Lyon County 56-36 in the district semifinals.
Kendric Adams is a man without a true position.  The 6-2 sophomore led the Wildcats in scoring (12.9 ppg.) and rebounds (7.4 rpg.) last year, primarily as a forward.  Burgett will likely use Adams as both a guard and forward to take advantage of his ability to get to the basket and finish (48% FG shooting).
Senior guards Jakobe Bridges (8.2 ppg.) and Hayden Cunningham (4.8 ppg.) return to give Burgett some flexibility in the back court.  Junior Kion Thompson (3.9 ppg.) looks to see his playing time increase after leading the Wildcats in field goal percentage (49%) last year in just 11 minutes per game.
Burgett is also excited about a pair of eighth graders that will have an immediate impact on the team.  Jhaden Vaughn has been running the point in both preseason games, and Jordan Miles, the son of assistant coach Toby Miles, has played both point and shooting guard.  The first-year Wildcat coach knows the potential both players have but also understands there will be growing pains.
Khyran Vaughn (3.1 ppg., 3.8 rpg.) and Shaun Terrell (2.7 ppg., 2.7 rpg.) are the forwards on an undersized front line.
The Wildcats also got a boost when senior Cam Jordan, who was the team's second-leading scorer as a freshman and earned All-District honors, returned to the hardwood.  Jordan saw both his scoring and playing time cut in half his sophomore year and didn't play last year as he focused on football.
Burgett has promised a more up-tempo style of play, something that served him well at Dawson Springs the past two seasons.  The Wildcats are likely to take their lumps against a re-tooled schedule early, but could be a fun team to watch when the postseason rolls around in February.  It will be interesting to see how quickly the Wildcats become a district factor again after dropping 16 of 21 district games over the past three seasons.
Trigg County opens with a district game Friday when they travel to Crittenden County, a team they split against last year.