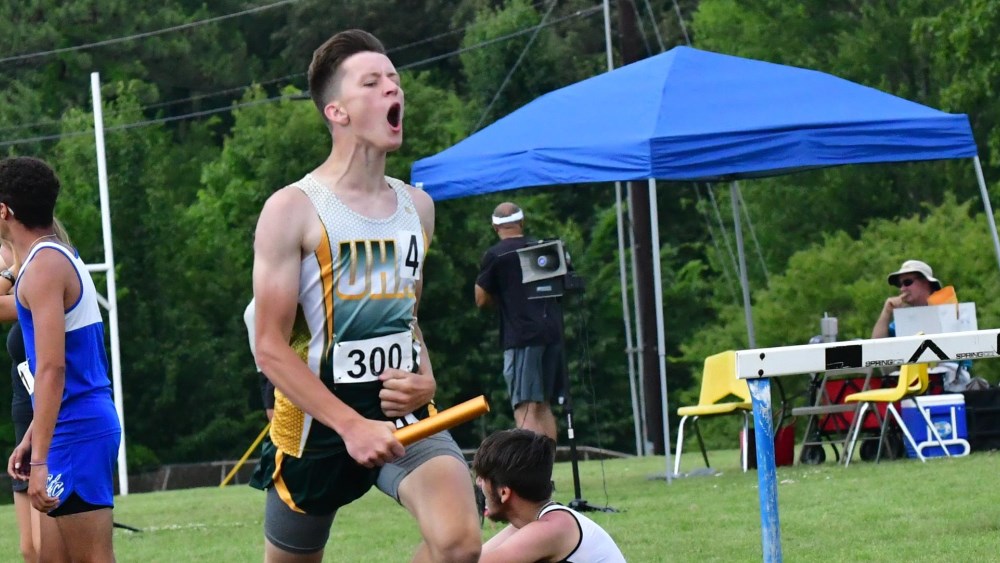 The top three teams at the boys' Class 1A Region 1 track and field meet were separated by four points. The UHA Blazers brought home a region runner-up trophy with a solid mix of wins in hurdles, middle distance, and relays.
Connor Dill swept the hurdle events for UHA, winning the 110-meters in 15.75 seconds and the 300 meters in 41.66 seconds.
Tomas Duncan also swept the middle distance events, winning the 1600 meters in 4:38.97 and the 800 meters in 2:04.51.
Sam Cotthoff led the field events for the Blazers with a third-place heave in the shot put in 41-11.  He was fifth in the discus in 104-06.
The 3200-meter relay team won in a time of 8:44.41, beating Livingston Central by 11 seconds. The 1600-meter relay team also nabbed a win in 3:40.21.
The 800-meter relay team came in fourth with a time of 1:37.11 and the 400-meter relay team was fifth in 48.79 seconds.
OTHER UHA REGION FINISHES
Tobias Duncan – 2nd in the 3200-meter run [10:58]
Mason Price – 3rd in the 400-meter run [54.40]; 4th in the 200-meter dash [24.33]
D.J. Quarles – 5th in the triple jump [37-01]; 7th in the high jump [5-2]
Walter Kunnmann – 6th in the 400-meter run [55.97]
Elvin Wagner – 6th in the long jump [18-01]; 6th in the triple jump [36-11]
Chase Hendricks – 6th in the 800-meter run [2:22.79]; 10th in the 1600-meter run [5:32.85]
Trey Wyatt – 8th in the 200-meter dash [25.54]; 11th in the 100-meter dash [12.57]
Ray Farmer – 11th in the 3200-meter run [13:42.41]
In the team standings, Fort Campbell and Murray tied for the region title with 102 points.  UHA was the runner-up with 98 points.  Fulton County was fourth with 85 points.
The top-2 finishers in each event automatically qualify for the Class 1A State Meet to be held Thursday at the University of Kentucky.  The next 10 finishes statewide also qualify.