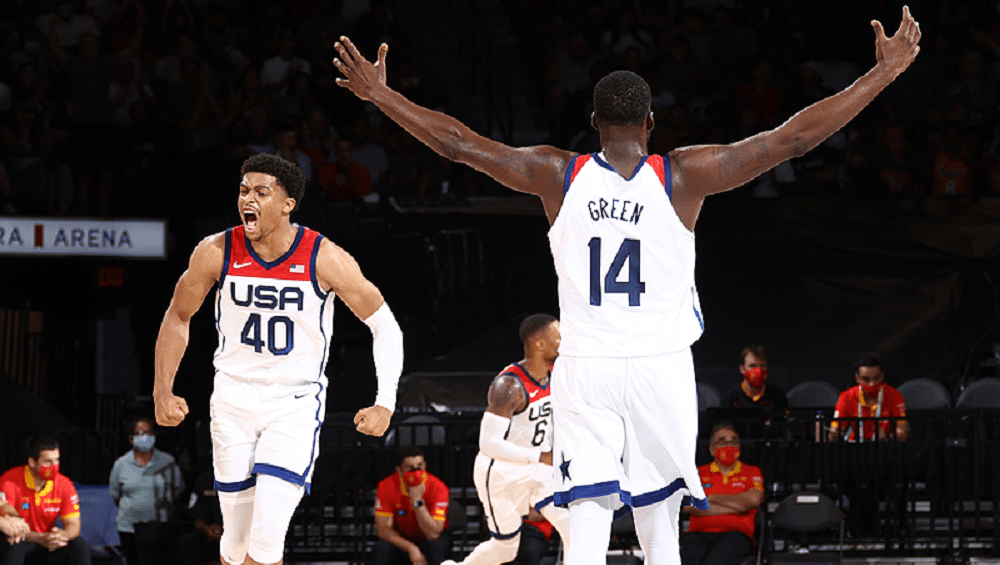 Keldon Johnson (40) had a lot to be happy about in Team USA's win over Spain Sunday. (USA Basketball Photo)
Anyone wondering why former University of Kentucky player Keldon Johnson got promoted to the USA Olympic team certainly got an answer Sunday night when he came off the bench to score 15 points in an 83-76 victory over Spain in Las Vegas. If that does not impress you, consider he only played 17 minutes, 24 seconds to score his 15 points on 7-for-9 shooting, and also had three rebounds, two steals and one blocked shot. He also committed only one turnover.
"He played great. There is a reason why, once a few guys weren't able to continue with the team, there's a reason why he was asked to stay," said teammate Damian Lillard of the Portland Trail Blazers who had a team-high 19 points.
Johnson has been in Las Vegas as a member of the USA Select Team that scrimmaged the Olympians but was promoted when two team members had to opt out for various reasons. Team USA also has three players, including former Cat Devin Booker, not in Vegas because they are playing in the NBA finals.
Johnson understands his role on this team just like he did last season with the San Antonio Spurs where he started 67 of 69 games last season.
"Just being active, being a spark. I'm here to be the energy guy and bring life to the team whenever we need it. In the third quarter when I came in, we needed a spark," he said after Sunday's game.
Spain was leading 46-42 in the third quarter when Johnson helped spark an 11-0 run that helped win the game. Johnson had a huge dunk in the streak.
"Keldon Johnson just played a really solid basketball game," said USA coach Gregg Popovich, who coaches Johnson at San Antonio. "He shot if he was open, he made cuts to the bucket. When he did go to the bucket, he was very physical. And he was solid in the half-court defense. So, he had a very, very good night."
* * *
USA will face France in its Olympic opener July 25.