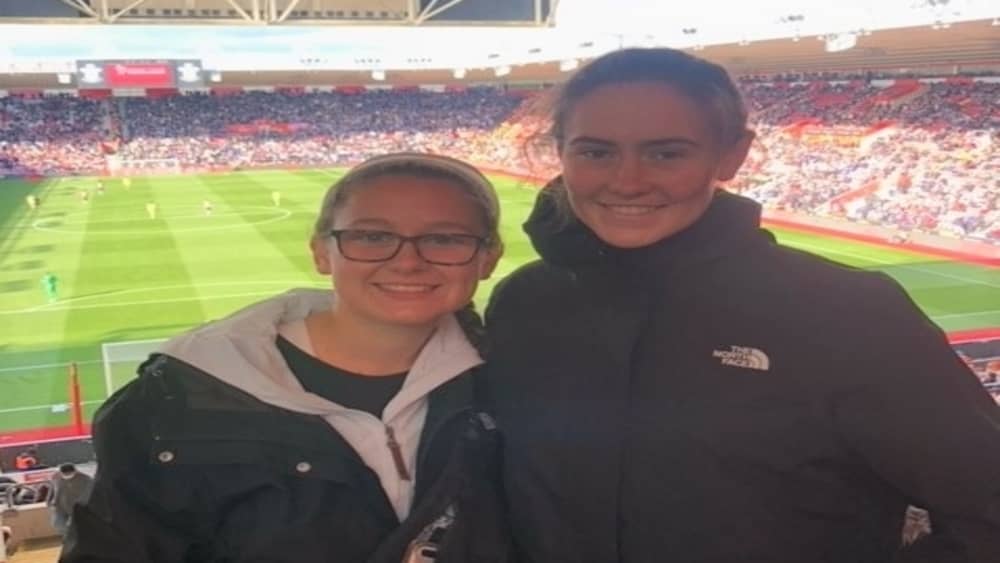 Summer is always an important time for soccer players as they use the travel circuit to improve ahead of the start of the fall high school season.
However, for University Heights Academy soccer players Anna and Addi Fourqurean, their summer will be hard to top their spring experience.
The twins, who will be juniors and three-year starters for the Lady Blazers this fall, were part of the Kentucky Olympic Development U16 team that played in Europe during spring break.
The entire experience was a bit of a shock for the rural girls who grew up on the family farm. But the real-world experience and the soccer knowledge they gained from the trip will live with them forever.
The ODP is a national program used to identify and develop youth players to represent their state, region, and country in soccer competitions.
For the Fourqureans, they have been involved in ODP soccer since the seventh grade, but this was their first chance to play abroad. Or even travel abroad for the matter.
The flight for their nine-day excursion in London was the first time either of the girls had flown. They left from Louisville and flew to Charlotte and then made the nearly eight-hour flight to London.
"I was scared of heights so I slept for most of the trip there," Addi said. "But coming back, I wanted a window seat and it didn't bother much."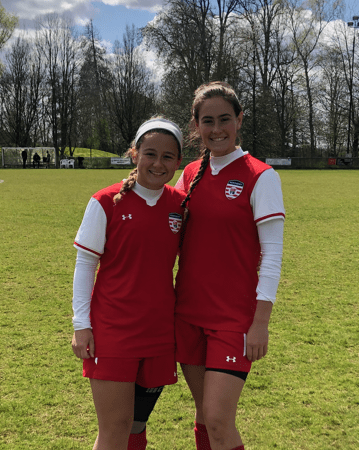 Their schedule included training with their ODP coaches – Megan Ryan, an assistant coach at Eastern Kentucky University, and Kentucky ODP director Derek Willis. They also had the chance to work with the coaches of youth teams from the United Kingdom.
They said they could see a different playing philosophy just minutes into their first workout.
"They had different coaching techniques and a different style of play, Anna said. "They are more direct while we have more possessions in the American game."
Addi said the physical play, something she doesn't mind, was also noticeable.
"They play faster so we had to be able to anticipate and get to the ball first and get into their passing lanes. It's a way more aggressive style."
Their high school coach is Michael Parker, who has been coaching either the boys or girls programs at UHA since 1998. He also hails from Scotland and the twins saw some of Parker's tactics in what they learned in London.
"We ran a lot of the same drills Coach Parker has," Anna said, with Addi adding the European coaches focused on much of the same things their high school coach does.
While in London, the Fourqureans played four friendly matches against teams in the area. But playing on a new team of girls from throughout Kentucky meant a quick learning curve.
"By the second half of the second game, the team was working together and was in the right position," Anna said.
There was also a learning curve to the style of play of their opponents.
"I learned to play more direct and not take so much time out of the back," Addi said. "Making sure when we see that opening where the forward is, that's the time to get it up the field faster."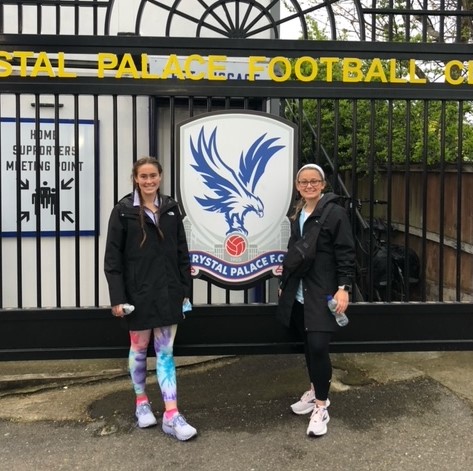 Playing soccer and going through teaching and training sessions wasn't the only soccer the twins got to experience. They got to watch Crystal Palace get a 3-0 Premier League win at Selhurst Stadium which has a capacity of 25,000 people. They also watched a Premier League game at Tottenham.
The whole Premier League experience was eye-opening for both girls and allowed them to see how a different culture of people embrace soccer.
"It was like the NFL on steroids," Addi said. "It was life or death to the fans. They were booing their own teams when they were losing. Soccer is still new here in the states. There, it's been a die-hard thing. The way they support their teams from generation to generation is cool."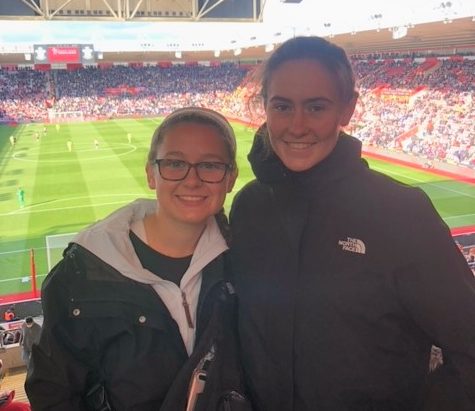 For Anna, it was a shot of adrenaline even though she wasn't on the field playing.
"Soccer means everything to them. It's almost a religion."
As far as their takeaways from Europe as they return to play in the states, they both don't want to lose the edge they gained.
"My attacking will be better," Anna said. "I learned more attacking techniques. In the past, I liked defending the 1 on 1. Now, I want to be on the other side."
For Addi, who plays more in the midfield, she learned to recognize the numbers game.
"I learned to make a run and help with team numbers on the attack,"
And of course, the trip had plenty of time for sightseeing around London. A Thames River cruise allowed them to see landmarks such as the London Bridge, Buckingham Palace, the South Bank, Big Ben, and Parliament.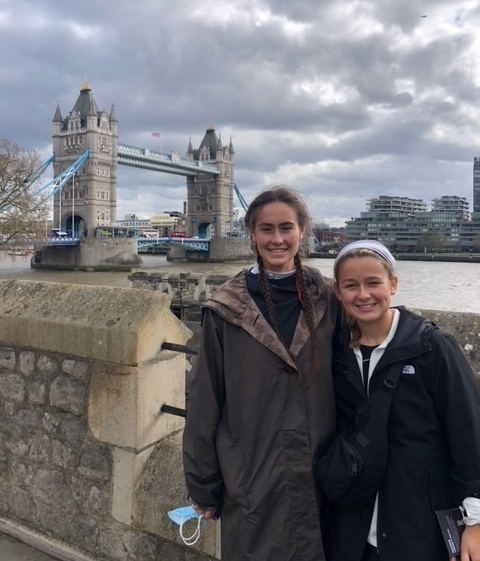 For Anna, Westminster Abby was her favorite stop. But for both, they got a chance to embrace their inner Harry Potter geekdom and see locales made famous by the fantasy movie series.
Platform nine and three-quarters is the fictional train platform at the real King's Cross Station where students board the Hogwarts Express, the train that takes students to and from Hogwarts.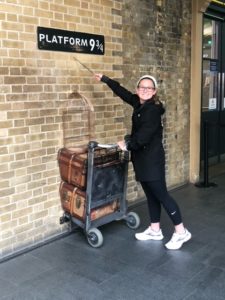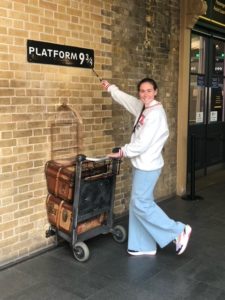 They also got to see the Millennium Bridge at the forefront of the Half-Blood Prince.
"Getting to see them puts it into much more perspective. There is so much CGI used in movies today, but it's cool to see somewhere where someone famous walked," Addi said.
Except for beans on the breakfast buffet every morning, the food didn't throw the girls for a loop.  In fact, Addi came home with a new British staple even if it took her a second time to get it through airport security.
"They took my peanut butter at airport security," Addi said. "I was so mad. I ended up having to buy some more and was able to get it back to America." She didn't detail how her peanut butter made it home and we chose not to ask.
While Addi was macking on her peanut butter, Anna's British favorite, or favourite, was the croissants.
"They are next level," she said. "The American ones aren't the same."
Both sisters actually had been prepared for the European croissants in high school.
"I got to use some of the French culture that I learned from my French teacher Mrs. (Amy) Craig. She had told us about the food, and I was able to use what I had learned a few times on the trip."  Addi will be taking French III in the upcoming school year.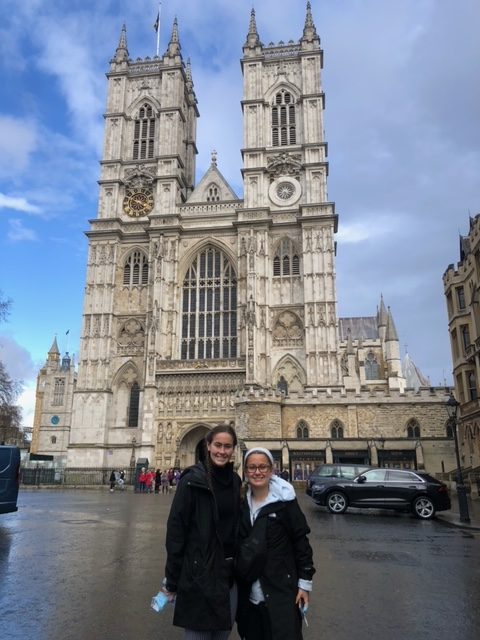 Their mother Tamara was able to accompany them on the trip while their father Perry stayed home in Kentucky to tend to the farm.
The sisters have already looked ahead to where the next season of ODP could take them – Barcelona, Spain.
"They are a soccer central, and I would love to play there," Anna said, getting a nod from her sister.
Regardless of whether they go next year to Spain, their experience has made them want to travel more and explore places they've only heard of or seen on TV or on social media. And if the Fourqurean twins approach world travel with the same zeal and attitude they do with soccer, then it will most definitely be double the fun.