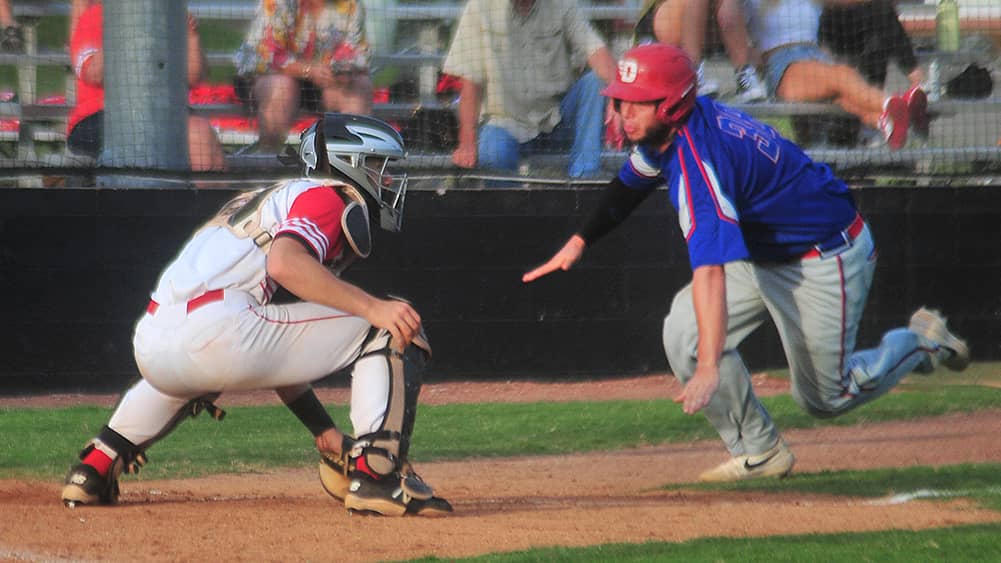 The Franklin Duelers spoiled Hoptown's rally with a six-run ninth inning and sent the Hoppers to their fifth-straight setback Friday night.
Hoptown battled back from a 9-2 deficit to take an 11-10 lead to the ninth, but the first-place Duelers still left Hopkinsville with their third-straight win.
Four walks and two hit batters aided Franklin's big inning in the ninth.
Down 16-11, the Hoppers were retired in order in the bottom of the ninth while falling to 8-11 on the season.
Franklin improved to 13-6 and continues to lead the Ohio Valley League South Division.
Hoptown scored four times in the bottom of the eighth inning rally from seven runs down and grab the lead.
Joshua Rodriguez tripled home two runs to tie the game. He then came in on a wild pitch to give the Hoppers an 11-10 lead.
Jay Curtis was 4-for-6 with a double and four runs batted in to pace the Duelers. Mark Castle was 3-for-5 and drove in two while Sam Slaughter homered as part of a 2-for-4 performance with two RBIs.
Ren Tachioka was 3-for-5 with an RBI for the Hoppers. Jacob Dupps and Ronald Brown each homered for Hoptown.
Jacob Lassiat, the last of four Franklin pitchers, picked up the win on the mound. He went the final 1.2 innings, allowing no runs and no hits while striking out two.
Both the Hoppers and the Duelers will play Saturday at Bowling Green Ballpark, the home of the Hot Rods, a Class High-A affiliate of the Tampa Bay Rays.
Franklin will face the Owensboro RiverDawgs at 3:30 while Hoptown takes on the Full Count Rhythm at 7:00 in the Service One Credit Union Classic.