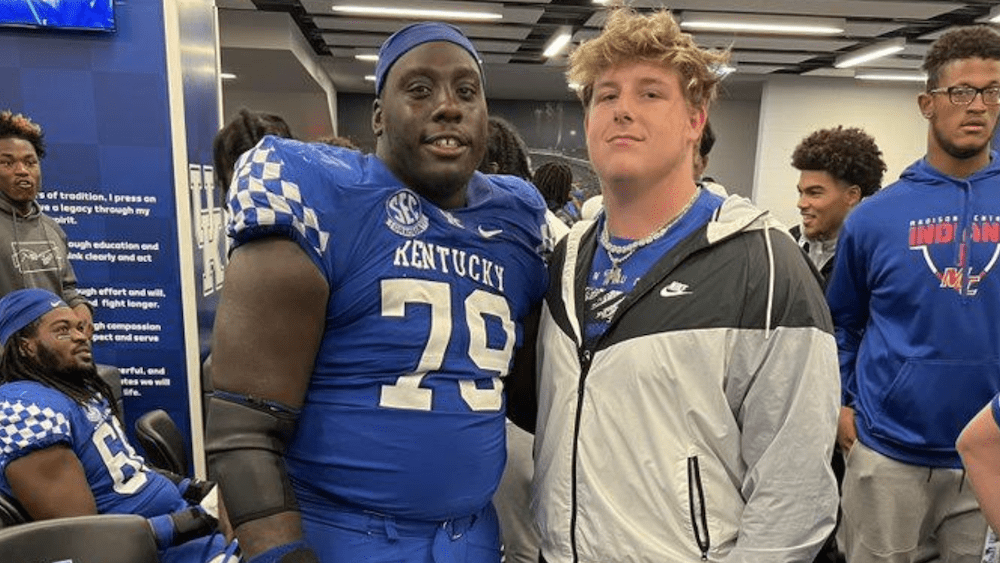 Kentucky commit Koby Keenum with UK offensive lineman Tashawn Manning.
Alabama offensive lineman Koby Keenum has 55 Division I scholarship offers and has been ranked as high as the No. 3 center in the 2023 recruiting class — and is one of the highest rated players in Kentucky's 2023 recruiting class.
However, there was some social media concerns Thursday that he might be changing his mind. Apparently his Twitter profile did not list him as a UK commit any more and he also posted on Twitter that he would be in "Starkville Saturday" leading to speculation he was visiting State when it played Auburn.
However, a source close to UK football confirmed that "nothing has changed" with his commitment.
The offensive lineman has a Bible verse, Jeremiah 29:11 — "For I know the thoughts that I think toward you, saith the Lord, thoughts of peace and not of evil, to give you an expected end" — listed on his Twitter profile but I was told he often changes information on his social media.
The 6-4, 300-pound Keenum plays for Mars Hill Bible School in Florence, Ala., and apparently is going to Mississippi State with some friends/teammates but it is not an official visit.
Apparently offensive line coach Zach Yenser even called the family to check on Keenum's status and was told that he was "as solid as ever" with his commitment to Kentucky.
"The family talks to coach Yenser all the time," the source said.
However, the source did tell me that UK fan speculation/chatter that offensive coordinator Rich Scangarello and Yenser, who both came to UK from the San Francisco 49ers this season, are to blame for UK's offensive woes and should be fired could impact recruiting.
"If a player commits to a school and coach and then he reads and hears that fans want to fire him and run him off, that can be a problem," the source said. "Fans need to calm that stuff down. But I do know that Keenum loves Yenser and (coach Mark) Stoops and all those guys."