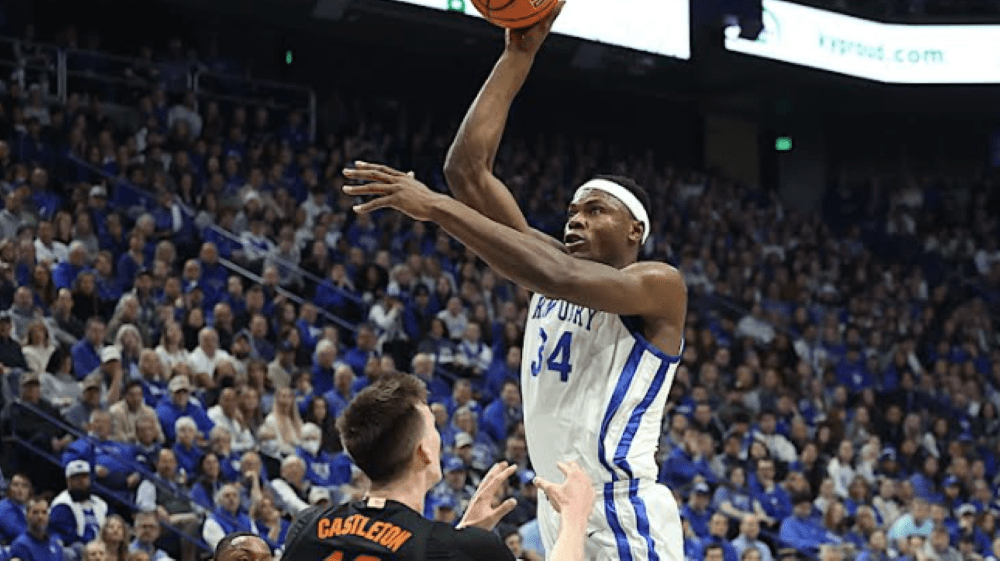 Colin Castleton limited Oscar Tshiebwe to 2-for-14 shooting in a game earlier this season. (Vicky Graff Photo)
Colin Castleton insisted he had no fear of playing against Oscar Tshiebwe and then the Florida senior center went out and backed up his words Feb. 4 even though Kentucky beat the Gators 72-67 in Rupp Arena.
Castleton had 25 points on 9-for-16 shooting along with eight rebounds and five assists. He has averaged 17.2 points and 6.8 rebounds in five games against  UK.
Castleton held Tshiebwe to 2-for-14 shooting and just four points in the first Florida-UK game. Tshiebwe did have 15 rebounds.
Kentucky plays at Florida tonight but won't have to worry about Castleton. He's out with a broken hand suffered against Ole Miss and Florida is 0-2 without him.
Castleton's absence would seem to clear the way for a potential breakout game for Tshiebwe against Florida's backup interior player. However, UK assistant coach KT Turner said Tuesday that UK did not plan to do anything different with Tshiebwe than it has been doing.
"I think we'll still have the same game plan, what we want to do. They're playing the same coverage that they've been playing with those other two guys," Turner said.
But Florida is not the same without Castleton. He had 78 blocks, tied for third most in the country, in 26 games. He was also averaging 16 points and 7.7 rebounds per game.
First-year Florida coach Todd Golden admitted losing Castleton was a "hit" for the Gators who have had to learn a new way to play without the star center.
Center Jason Jitoboh fills a "big" space at 6-11, 300 pounds and played a season-high 24 minutes against Arkansas Saturday but had just four points and two rebounds. He played just three minutes in Rupp Arena.
Aleks Szymczyk, a 6-10 freshman, had played just 15 minutes in six games before getting 20 minutes against Arkansas where he had eight points, six rebounds, four steals, on assist and one block in 20 minutes.
"It's a difficult thing to have to overcome at this point in the season, but at the same time it's an opportunity for a lot of guys to step up, guys who haven't had the same opportunity earlier in the year," Golden said. 
Turner said the Gators are playing the "exact same" without Castleton and using the other two bigs.
"They're gonna play drop coverage and ball screens, at least that's what they did against Ole Miss and Arkansas. But they really haven't changed how they played, just different personnel," Turner said. "Castleton is a really, really good player, one of the top bigs in the country.
"You can tell they were a little uncomfortable playing the last two games, but I'm sure they'll be ready to play against us. But they really haven't changed how they've been playing, with what we've seen on film."
Florida did try a smaller lineup with 6-9 LSU transfer Alex Fudge playing some at center.
"It's a little tricky, it's a little different. We've definitely watched it, some things we can still do. But I mean, he's so good on both ends of the floor, it does change some things for us," Turner said about Castleton being out.