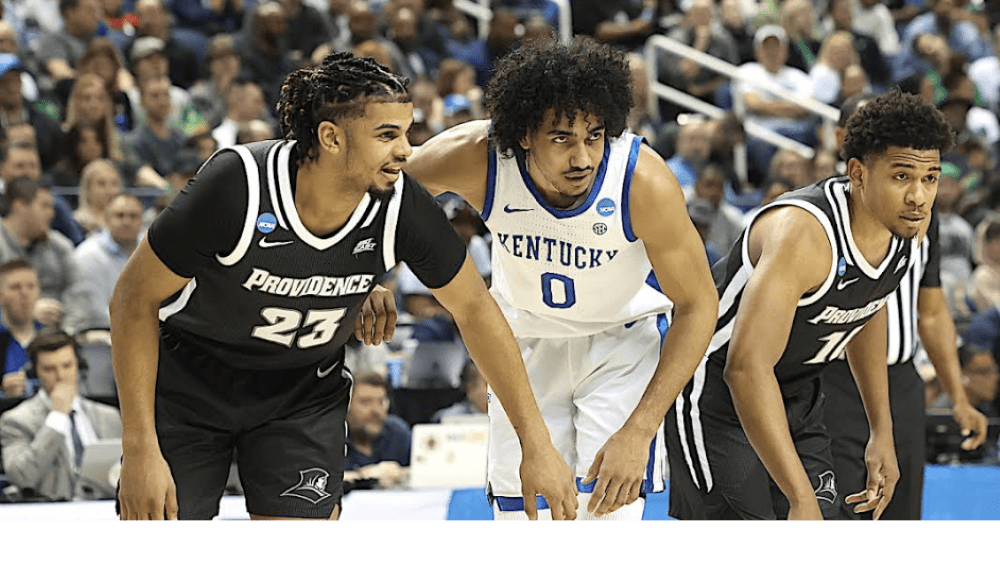 Jacob Toppin, center, easily outplayed former teammate Bryce Hopkins Friday. (Vicky Graff Photo)
It's that time of year. A team wins, it advances. A team loses, the season ends. No team should be overlooked, just ask Purdue today.
There were many storylines surrounding Kentucky's game Friday night  There was the Bryce Hopkins storyline. It had been way too many years since Kentucky had won an NCAA tournament game.
Was Oscar Tshiebwe going to have another premonition? The monkey was on their backs and the pressure was on. It was a game that could put the St. Peter's game to rest.
The highly (?) anticipated match up between former teammates Jacob Toppin and Hopkins can be summed up in two statements:
Toppin: 18 points, 6 rebounds, 2 assists and 1 block.
Hopkins: 7 points, 8 rebounds and 4 turnovers.
Oscar did Oscar, 25 rebounds (the most in an NCAA Tournament game since 1977). He contributed eight points, two assists, and two blocks while playing 33 minutes.
Coach Ed Cooley provided the following analogy of Oscar's ability to get every rebound. "I think the ball thinks he is attractive therefore it goes to him every time," Cooley said.
It's time to relax and enjoy Greensboro today and get ready to play those other Wildcats tomorrow.
What to look for in the Kansas State game:
Key players:  Former Gator Keyontae Johnson, Markqui Nowell.
Coach: First year coach Jerome Tang.
The last time the teams played was in Atlanta in the round of Sweet Sixteen in 2018.
It was not a pretty game against Providence. At times it looked like a WWE wrestling match under the basket. In the end none of that mattered.
The Cats survived and will advance to play Kansas State on Sunday at 2:40 p.m.