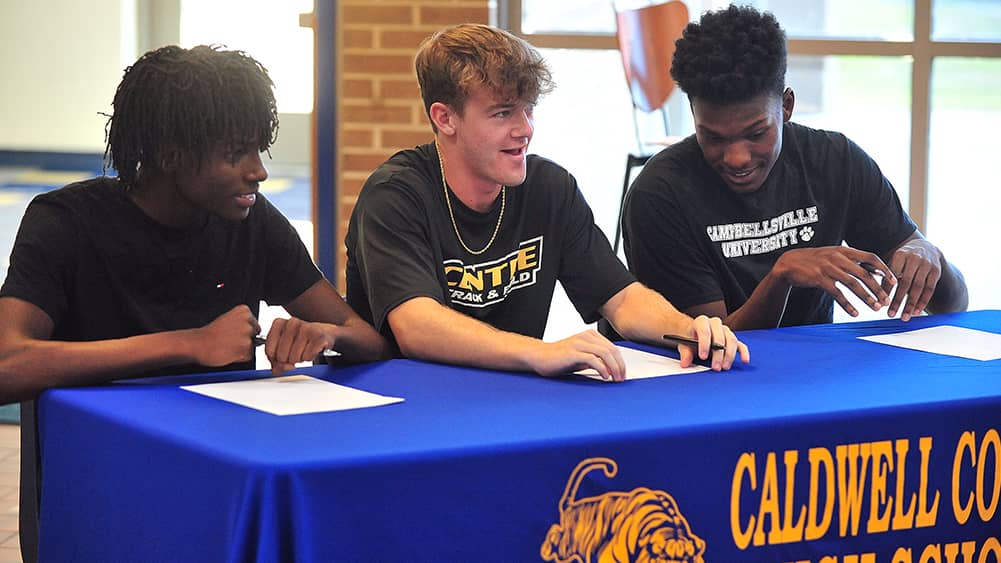 Three Caldwell County grads will run track on the college level.
Isaiah Joyner and Dewey Riley have signed to join the track program at Campbellsville University while Ethan Weatherspoon will join the track team at Centre College.
The Caldwell County track program held a signing ceremony for its three athletes prior to Thursday's team awards banquet in the CCHS cafeteria.
Joyner was named second-team all-state in the triple jump by the Kentucky Track and Cross Country Coaches Association.
He nabbed a third-place showing last month in the triple jump at the state meet at 43 feet, 4.75 inches. He just missed the school record held by his first cousin Javon Brown. Brown's record leap of 43 feet, 6.5 inches was set at the 2011 state meet.
Joyner owns six of the 10 longest triple jumps in school history. He also is the holder of the school record in the long jump at 21 feet, 4 inches.
Weatherspoon also medaled at state with a sixth-place finish in the 100-meter dash. Weatherspoon placed sixth in a time of 10.998, edging Corbin's Treyveon Longmire by .002 seconds.
He also finished 10th at state in the 200-meter dash in 23.27 seconds.
Weatherspoon holds the school records in both of those events at 10.92 seconds and 22.48 seconds, respectively.
Riley just missed earning a medal in the triple jump with a ninth-place showing at the state track meet with a leap of 41 feet, 7.25 inches.
All three players were multiple-sport athletes at Caldwell. Joyner and Riley were members of the Tiger basketball team while Weatherspoon played for Caldwell's 2nd Region runner-up soccer squad.

Caldwell college track signings