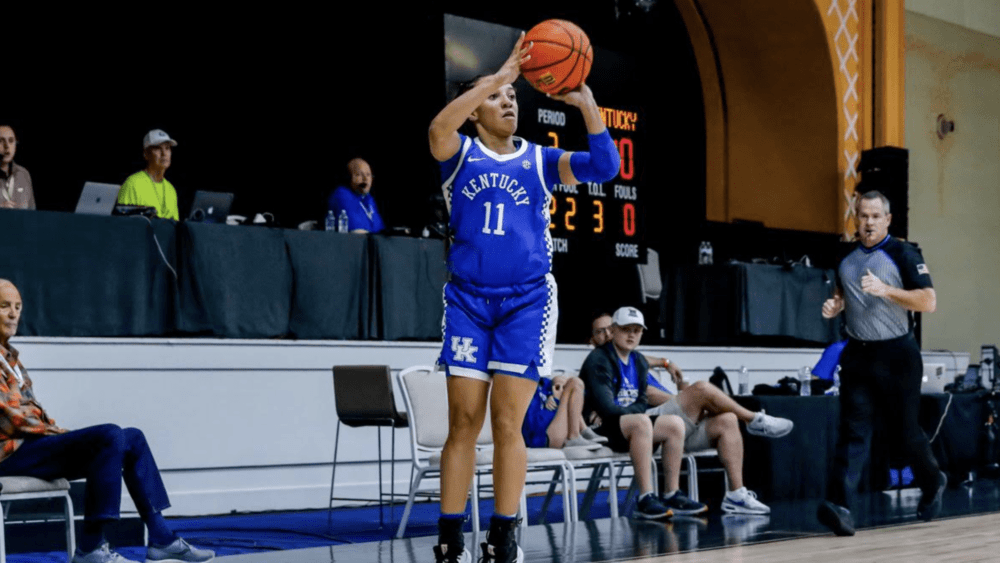 Jada Walker led Kentucky with 17 points and five steals. (UK Athletics Photo)
Kentucky coach Kyra Elzy was both upset with her team and yet proud of her team.
Kentucky lost 84-72 to No. 14 Virginia Tech in the Baha Mar Hoops Pink Flamingo Championship in the Bahamas after getting outscored 29-8 in the first period. Tech extended the lead to 28 points in the second quarter but with less than a minute to play the Cats cut the margin to six points.
"There is no moral victory. Make no mistake about it. We came here to win," Elzy said after the game.
However, she said her team had "heart and no quit in them" which she really liked.
"This is where you learn. We emptied our tank to get back in the game," the UK coach said.
She felt her team "panicked" in the first quarter and didn't trust the offense when Virginia Tech got physical. That led to UK allowing its anemic offense to impact its defense.
Kentucky also struggled again to make 3-point shots. It was just 2-for-9 and didn't make one until the second half after also struggling to consistently hit 3-pointers in its four previous games, all wins.
"I think it is too early to panic. We have very capable 3-point shooters. Maybe we need to re-evaluate how we are getting them (3-point shots) in practice," Elzy said. "I am very confident in my 3-point shooters. It will come around."
What came around in this game was the defense in the second half when UK got 21 points off turnovers, including 13 in the fourth quarter, and also had 30 points in the paint.
"We have to control the pace and tempo of the game," Elzy said. "When we got rebounds and started running we got some transition points. We just have to make the game fast. They (Virginia Tech players) got fatigued which is something we need to have happen."
Guard Jada Walker led UK with 17 points, five steals and four assists. Guard Robyn Benton had 13 points and two assists and Ajae Petty came off the bench to score 12 points on 6-for-8 shooting and grab four rebounds. Amiya Jenkins also came off the bench to provide a spark with seven points, four rebounds and two steals.
"This is going to be very valuable for us. We talked about being built differently. When you are down by that many, we could have laid down and we didn't," Elzy said. "They have fight and heart."
"I thought we were tough down the stretch. We have no quit in us and no back down. We can learn from the things Virginia Tech did to us."
Kentucky will face Dayton Wednesday at 4:30 p.m.